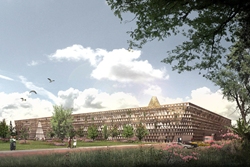 No child should be denied the opportunity for cure of their cancer if we have it within our capacity to cure their cancer simply by providing the resources and leveraging our collective voice. - Dr. Tanya Trippett
New York, NY (PRWEB) July 21, 2015
The Eugene Gasana Jr. Foundation is sponsoring the construction of a private regional pediatric cancer center serving Rwanda and the surrounding region of Africa. This new hospital will be a 240,000 sq. foot; 94-bed facility that embodies the African culture of the region utilizes sustainable resources and creates a soothing, open and restful environment for treatment to promote healing and recovery for the children and their families. The design and development phase of the hospital is currently underway; construction of the hospital will begin in 2016.
The pediatric cancer cure rate remains less than 10% for children in developing countries as compared to the 80% of children cured in the US. "I want the children of Rwanda to have the benefit of the quality cancer care I was given in the United States," stated Eugene Gasana, Jr. to his oncologist, Dr. Tanya Trippett of New York's Memorial Sloan Kettering Cancer Center in 2012. The following year, Dr. Trippett and Eugene's parents, Agnes Gasana and His Excellency, Ambassador Eugène-Richard Gasana, the Permanent Representative of the Republic of Rwanda to the United Nations, began brainstorming on combating pediatric cancer in developing nations, starting in Rwanda. The team formed the EGJ Foundation to work closely and collaboratively with civic leaders, medical professionals, engineers, business professionals, and the community to develop a world-class health facility for the children of Rwanda suffering from cancer. This is aligned with the mission of the Foundation to increase access to quality and compassionate healthcare in developing nations.
The founders commissioned David Adjaye, OBE of Adjaye Associates to design a hospital that embodies the culture of the region and promotes respect and dignity of patients and their families. "I think that design can provide a critical inquiry into social consciousness and I have always sought to work out the aesthetics of this inquiry in my work. The creation of a state of the art children's hospital in Rwanda has provided an incredible opportunity for architecture to contribute to a social change agenda in this way and to create a building that is a first for the continent - at the heart of the continent. It is an honor and an exciting prospect to be working on this project, where the design parameters have acknowledged the important role of environment on patient care and the process of healing is understood to be intrinsically linked to qualities such as light, views and materiality," states David Adjaye. Dr. Trippett believes, "No child should be denied the opportunity for cure of their cancer if we have it within our capacity to cure their cancer simply by providing the resources and leveraging our collective voice."
ABOUT THE EUGENE GASANA JR. FOUNDATION
The Eugene Gasana Jr. Foundation is a 501(c)3 global humanitarian organization created to enhance the opportunity for cure for children with cancer in developing nations. The Foundation is committed to developing programs that provide comprehensive and sustainable treatment to pediatric cancer patients. The Foundation offers a multi-pronged approach that will provide improvements in the quality of healthcare, infrastructure, education, patient/family empowerment and awareness.
ABOUT EUGENE-RICHARD GASANA
Eugène-Richard Gasana is a Rwandan career diplomat with over 20 years of diplomatic experience in various capacities. His diplomatic feats have ranged from posts in Germany and Switzerland to New York. He has represented Rwanda in the United Nations Office in Geneva and in other international organizations such as the World Trade Organization, World Health Organization, World Intellectual Property Organization, and International Telecommunication Union. He has also served as the United Nations High Commissioner for Refugees, as well as Chair of the Group of African Ambassadors that led the World Summit against racism in South Africa in 2001. In 2011, he headed the United Nations Peacebuilding Commission. Recently, Ambassador Gasana was appointed as a Cabinet Member and Minister of State in Charge of Cooperation in Rwanda while concurrently spearheading Rwanda's membership on the United Nations Security Council.
ABOUT DR. TANYA TRIPPETT
Dr. Tanya Trippett is a Board Certified Pediatric Hematologist Oncologist practicing at (Memorial Sloan Kettering Cancer Center). She completed her medical and specialty training in Pediatrics at Duke University School Medical Center. She completed her Fellowship in Pediatric Hematology Oncology at Memorial Sloan Kettering Cancer Center. She served in the US Air Force as Head of the Division of Pediatric Hematology and Oncology. Her areas of subspecialty expertise include the care of children with lymphoma as well as children with cancers that have returned despite prior treatment. Trippett has been named in Castle Connolly's Top Doctors, 2013 and 2014 and a Diamond Member of the International Association of Pediatricians and The Leading Physicians of the World in 2010. She is the Director and Co-Founder of POETIC (Pediatric Oncology Experimental Therapeutics Investigator Consortium), a collaboration between multiple academic centers in North America specializing in cancer care whose mission is the development of biologically targeted treatment approaches for children with cancer that has recurred after standard therapy.
ABOUT ADJAYE ASSOCIATES
Founder and principal architect, David Adjaye OBE, established Adjaye Associates in June 2000. Receiving ever-increasing worldwide attention, the practice's largest commission is the design of the Smithsonian Institution's National Museum of African American History and Culture on the National Mall in Washington D.C. Further projects include the Alara Concept Store in Lagos, Nigeria (2015); Sugar Hill Low Income Housing Development, New York (2015); Marian Goodman Gallery, London (2014); Moscow School of Management SKOLKOVO in Moscow (2010); The Nobel Peace Centre in Oslo (2005); The Bernie Grant Arts Centre in London (2007); Rivington Place in London (2007); and the Idea Stores on Chrisp Street (2004) and Whitechapel (2005) – two pioneering new libraries in the London Borough of Tower Hamlets.
For more information on the foundation and to see the proposed hospital, visit the website, gasanafoundation.org. To make a donation, visit gasanafoundation.org/donate.html