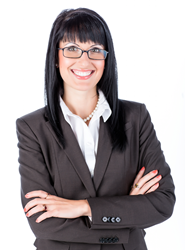 We are so excited to have Anna spearheading our law firm's marketing efforts. Her knowledge of social media is amazing and her enthusiasm is infectious. She has really lit a fire under a bunch of stodgy old lawyers! - Adam Gaslowitz
Atlanta, GA (PRWEB) January 30, 2014
Gaslowitz Frankel LLC, Georgia's premiere Fiduciary Litigation and Estate Dispute Resolution law firm that celebrates its 25th anniversary this month, just hired GA State University MBA grad, Anna Stevens, as the Director of Marketing to help build the brand through developing and implementing a competitive and forward-looking marketing strategy. 
Anna Stevens is a native of Russia where she earned her Bachelor's in Business Administration as well as Juris Doctor in 2008. Having lived in the Unites States for a little over 5 years, she graduated with her MBA from GA State University, J. Mack Robinson College of Business, in July of 2013. Earlier in April of last year Anna Stevens published her first book, "Turn Your Dreams And Wants Into Achievable SMART Goals!" Passionate about Marketing, Anna is experienced in building brand equity via all major forms of social media, including Facebook, Twitter, LinkedIn, YouTube, Pinterest, Instagram, Yelp, Google Plus, and blogging. In the past few years, Anna Stevens managed brands of several organizations via digital marketing, raising awareness and bringing in new clients while increasing profits.
As of December 16, 2013 Anna Stevens is in charge of Marketing at Gaslowitz Frankel LLC. She has already developed a Comprehensive Marketing Strategy that covers website transformation, SEO, SEM, social media, multiple video campaigns, LinkedIn networking, PR, and more. As a part of her role, she plans to help the firm's attorneys create a strong digital presence that advocates their years of expertise and helps the community understand the unique value Gaslowitz Frankel LLC delivers through its Fiduciary Litigation and Estate Dispute Resolution work on a daily basis. Anna's main goal is to ensure that the law firm has a consistent brand that people can easily find online, recommend, connect to, and engage with, and that attorneys have multiple platforms to educate the public about dispute resolution and share their expert advice.
To observe the transformation of firm's website and to follow the news, visit http://www.GaslowitzFrankel.com
_________________________________________________________
ABOUT GASLOWITZ FRANKEL LLC: Gaslowitz Frankel LLC is Georgia's premiere Fiduciary Litigation and Estate Dispute Resolution law firm that employs quality litigation attorneys experienced in a wide variety of cases. For 25 years the firm has been a leader in the Southeast in Estate and Fiduciary Litigation. Its lawyers have tried cases in state and federal courts and appeared before the Georgia Supreme Court, the Georgia Court of Appeals, Superior Courts throughout Georgia and the Southeast, Federal District Courts throughout Georgia and the Southeast, and United States Court of Appeals for the Eleventh Circuit. As a result, Gaslowitz Frankel LLC established an impressive track record and a reputation for expertise in the fiduciary field that has been recognized with multiple awards in the recent years.