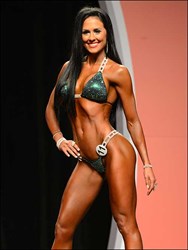 'Gaspari not only has the best products in the industry but also the best athletes.' - Ashley Kaltwasser
Lakewood, NJ (PRWEB) February 10, 2014
Gaspari Nutrition®, a globally distributed sport nutrition company, is proud to announce that IFBB Pro and Ms. Olympia champion Ashley Kaltwasser has officially joined Gaspari Nutrition. CEO Rich Gaspari's vision is to grow a sports nutrition empire with athletes of all genres helping to spread his message of physical fitness excellence through nutrition.
"I welcome Ashley to Team Gaspari! She is a great representative of the balance of beauty and Fitness that women strive to achieve," said Gaspari.
Kaltwasser had an impressive 2013 competitive season with four first place wins, and three second place finishes in the IFBB Professional League. Team Gaspari is excited to debut Kaltwasser on the ever popular Gaspari TV's Physique 90 fitness show. This video series is dedicated to showing fitness enthusiasts the very tips and techniques the pros use to build their masterful physiques.
"I have been using Gaspari products daily ever since I started training for my first NPC Bikini competition and it has been a company that I have admired since day one. It's such an honor to now be a part of Team Gaspari and I am beyond excited to represent this amazing brand that displays so much success and professionalism. Gaspari not only has the best products in the industry but also the best athletes. I want to thank Rich Gaspari & team for bringing me on board and Troy Johnson for "finding" me. Also, a special Thank you goes to my manager, JM Manion of FMG for his continued guidance and support," said Kaltwasser.
Kaltwasser is a member of the world famous Fitness Management Group headed by JM Manion. This fitness focused talent agency is known for managing some of the best competitors in the global fitness industry.
"Fitness Management Group (FMG) is proud to have Ashley Kaltwasser join Gaspari Nutrition as she moves forward with her career in the IFBB Professional League. When Ashley spoke to Gaspari Nutrition representatives, she told FMG she felt this was the right supplement company for her due to their tremendous products, the professionalism of all their representative's and of course speaking with and getting a chance to work with Rich Gaspari himself. FMG is just as excited as Ashley about the signing," said Manion.
Kaltwasser will be joining fellow teammates at the 2014 Arnold Sports Festival weekend in Columbus, OH February 28, 2014. The Gaspari booth will be wildly popular as they will be unveiling their all new pre-workout muscle builder Superpump 3.0 along with the wildly popular thermogenic powerhouse Detonate XT .
About Gaspari Nutrition®
Gaspari Nutrition is headquartered in Lakewood, NJ and is a rapidly expanding, healthy lifestyle sports company that develops and distributes a full line of nutritional supplements. Gaspari's propriety and award winning products address all categories of an active lifestyle including muscle building, weight loss, and general fitness through a daily nutritional supplement regimen. They are one of the few companies to sponsor independent, 3rd party research on their products to prove their efficacy. Gaspari Nutrition is sold in over 85 countries, including over 85 Popeye's locations in Canada, and available in over 5,000 US retail outlets that include GNC, Vitamin Shoppe, and Kroger, as well as over 100 online stores, including Bodybuilding.com, Amazon, DrugStore.com, and SupplementsCanada.com. For more information, please visit http://www.GaspariNutrition.com.