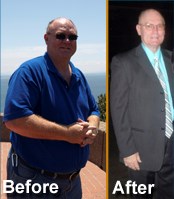 Dr. Patel tells it like it is and doesn't sugar coat," Earl stated, "I have recommended him to many people and will continue to do so.
San Antonio, Texas (PRWEB) September 12, 2013
Dr. Nilesh A. Patel of Texas Bariatric Specialists (TBS) announced today that patient, Earl Singer, has lost over 200 lbs. after years of battling weight gain caused by thyroid cancer. The unforeseen health challenges faced were overcome as a result of a life-changing Gastric Bypass Surgery.
Earl lived a very active lifestyle growing up and was able to eat whatever and whenever he wanted. He started working at age 12 as a newspaper boy, cutting glass for windows at age 15, and working as a garbage man at the close of his teenage years. He was also an athlete involved in football, baseball, track, cross country, and wrestling. As soon as he graduated from High School, Earl decided to join the military, specifically the Air Force. He became a combat controller and was in great shape. He used to prepare for triathlons every day in combat boots, while carrying a backpack, starting with a 10 mile run.
After retiring from the military, Earl began his teaching career. He teaches Forensic Science, Forensic Psychology, Law Enforcement I & II, and National Security. He also filled in as an after school administrator for after school projects. Five years in, Earl started rapidly gaining weight. He was still active, clearing land and lifting weights, but in a matter of six months his weight skyrocketed from 226 to over 300 lbs.! He tried every type of diet, including a two week weight loss clinic diet designed to have you lose 20-25 lbs. in 2 weeks by monitoring food intake and measuring calories expelled during exercise. Instead of losing the weight, Earl gained 30 lbs.! With an asthmatic mother who was also obese, and a father who was diagnosed with Non-Hodgkin's lymphoma and suffered a heart attack resulting in 2 stents and 4 valve replacements, Earl was starting to worry about the future of his own health.
Earl decided to have the Air Force medical team run some tests to find out exactly what was wrong with him. It was soon discovered that he was suffering from thyroid cancer; but after his thyroid was removed in 2010 and he was put on medication, Earl still could not lose any of the weight. He talked to multiple oncologists before one of them suggested the idea of Bariatric surgery. "Like most men, I don't like to see doctors," Earl confessed, but he decided to take the chance of meeting with one of the surgical weight-loss doctors mentioned by the oncologist, Dr. Nilesh Patel.
After speaking with Dr. Patel, Earl was convinced that Bariatric surgery was the right move for him. "Dr. Patel is very much like me, straight-forward, blunt, and didn't pull any punches," Earl said. During their discussions, Earl mentioned to Dr. Patel that he didn't want to go through any follow-up appointments. "I want one time and done," Earl said, so it was decided that he would undergo Gastric Bypass surgery.
Earl's Gastric Bypass procedure was a success. "Dr. Patel didn't promise anything that wasn't going to happen. Everything that he said was going to happen did happen," Earl stated. As a result of his procedure, Earl ended up losing 234 lbs.! He lost so much weight that Dr. Patel actually wanted him to start gaining weight. After learning to eat every few hours, he eventually settled at a healthy weight of 190 lbs. "After losing the weight, my students think I'm two different people," Earl exclaimed, because of his change in mood and energy level. An additional "side effect" of the weight loss was that, "You notice how people look at you and judge you differently than when you were overweight. People actually began to take the time to get to know me and talk to me now," Earl said.
Due to his personal rollercoaster of rapid weight gain & weight loss, Earl is much more supportive of all his students, especially those that are overweight. He tries to get them to open up in discussions and more involved in activities. "If it weren't for my students, I wouldn't be here right now. I don't have any family in Texas; and since I was morbidly obese, I didn't have many friends either. My students are my support system," Earl said.
The drastic changes in his lifestyle, personality, and eating habits have increased Earl's quality of life tremendously and he owes it all to Dr. Patel. "Anyone that questions their eating habits, exercise habits, or has a major health issue needs to see a doctor like Dr. Patel tells it like it is and doesn't sugar coat," Earl stated, "I have recommended him to many people and will continue to do so."
About Texas Bariatric Specialists
Founded by Dr. Nilesh A. Patel, MD, a nationally recognized and fellowship-trained bariatric surgeon, Texas Bariatric Specialists (TBS) is a holistic weight loss practice focused on delivering long-term weight loss solutions for patients. Dr. Patel specializes in surgical weight loss procedures including Lap Band, Gastric Bypass, Gastric Sleeve, Gastric Band, and the revision of failed weight loss surgery, which have resulted in over 2,500 surgeries exceeding the national average of successful weight loss management. With a commitment to surgical expertise, compassionate care and exemplary preoperative and postsurgical consultative services, Dr. Patel and his staff at Texas Bariatric Specialists ensure successful weight loss management for their patients through long-term relationships to support good health. Offices are located across major cities throughout Texas including San Antonio, Austin, Corpus Christi, New Braunfels, Seguin, Boerne, Kileen, Temple, Del Rio and Laredo. For more information, or to book a free informational seminar, please visit http://www.texasbariatricspecialists.com.