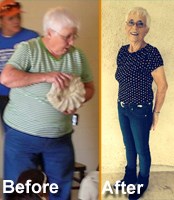 I'll be forever grateful to Dr. Patel because I would not be here today if not for him.
San Antonio, TX (PRWEB) November 19, 2013
Dr. Nilesh A. Patel of Texas Bariatric Specialists is pleased to announce that the extraordinary bariatric surgery procedure of a gastric bypass performed on Katherine Harrington of Comcast, TX was so successful that the process saved her life after her acid reflux painlessly returned.
Katherine "Missy" Harrington was tired of suffering from a handful of health problems including heartburn, high blood pressure, and high cholesterol and taking eleven pills daily to control them. She finally decided to get a Laparoscopic Nissen Fundoplication to control her painful acid reflux that occurred from GERD and thought that she had gotten one comorbidity under control, but soon discovered from Dr. Patel during her routine clinicals for bariatric surgery that her acid reflux had returned without the regular symptoms.
Growing up, Missy was very athletic. She played basketball in high school and college and was never concerned about gaining weight. After college she was active on her ranch and even coached basketball at the school where she taught science to 6th through 12th graders, but somehow the weight began creeping up on her. "After college, I kept gaining and gaining weight and tried multiple diets," Missy recalled. She even went to Mexico and got diet pills that seemed to work for a short period of time, but her weight came back with a vengeance.
As her weight added up, so did Missy's health problems. High blood pressure ran in her family, and she was soon also facing high cholesterol, a thyroid problem, and terrible acid reflux from GERD. At 5'0" Missy's highest weight of 188 pounds was too much for her small frame and her health problems were forcing her to take eleven pills a day; she was ready for a change. It began with a Laparoscopic Nissen Fundoplication to control her acid reflux, but her other health problems and her excess weight was still causing her problems, and she was still taking a ton of pills a day, so she began to consider bariatric surgery.
Missy had heard of Dr. Patel from a friend that lived in the same town and who had Dr. Patel perform her bariatric surgery, but it was Missy's husband who pushed her to see Dr. Patel. Listening to his suggestion, she signed up for a free seminar in Del Rio with Dr. Patel and has "never regretted it since." She decided to meet for a physician consult that same day and was glad she did. She was able to quickly get all the clinical requirements he wanted scheduled and, after speaking with Dr. Patel, was confident in her decision, but she still had to decide on which procedure to choose, a laparoscopic sleeve or a gastric bypass? "We talked about options," Missy said in regards to which procedure to choose, and after Dr. Patel learned that she had gotten a Nissen 3 to 4 years ago, he recommended she choose a gastric bypass. She learned a gastric bypass would be a safer procedure with a Nissen already in place, along with giving Missy better long-term weight-loss.
Upon completing a routine clinical test that Dr. Patel ordered, Missy learned that her acid reflux had returned and had started eating a hole in her esophagus! "It was a blessing," she said in regards to deciding to get the bariatric surgery. She had found out that she may have only lived 6 more months if the damage to her esophagus due to GERD hadn't been caught.
Almost immediately after her gastric bypass, Missy started losing weight. "It seemed like every time I turned around I was buying new pants!" she remembers. Within a year after her surgery, she had cut down the daily pills from eleven to three and thoroughly enjoyed throwing away her giant box of medicine. Her eating habits changed as she lost weight, too. "You quickly learn what you can and cannot eat," she said, "now when I go out, I can't eat everything." Today at restaurants, Missy and her husband order one meal to split rather than eating one individual meal each, and it's paid off. She dropped pant sizes from a size 16 to a size 0, and her shirts went from a 1x or 2x to an extra small! "I tease my granddaughter about being jealous because I am smaller than her now," she laughs.
Another aspect in Missy's life that has improved by the weight-loss is working with a non-profit group Shumla Archaeological Research and Education Center. "I can now hike with the kids and I couldn't do that before," she recalls. The group also hikes in and out of canyons frequently and Missy is able to climb back out, when before she felt like she was dying by the time she reached the top. Within two years, Missy went from finding out she could possibly die from her health problems, to being in the best shape of her life. "I'll be forever grateful to Dr. Patel because I would not be here today if not for him."
About Texas Bariatric Specialists
Founded by Dr. Nilesh A. Patel, MD, a nationally recognized and fellowship-trained bariatric surgeon, Texas Bariatric Specialists (TBS) is a holistic weight loss practice focused on delivering long-term weight loss solutions for patients. Dr. Patel specializes in surgical weight loss procedures including Lap Band, Gastric Bypass, Gastric Sleeve, Gastric Band, and the revision of failed weight loss surgery, which have resulted in over 2,500 surgeries exceeding the national average of successful weight loss management. With a commitment to surgical expertise, compassionate care and exemplary preoperative and postsurgical consultative services, Dr. Patel and his staff at Texas Bariatric Specialists ensure successful weight loss management for their patients through long-term relationships to support good health. Offices are located across major cities throughout Texas including San Antonio, Austin, Corpus Christi, New Braunfels, Seguin, Boerne, Kileen, Temple, Del Rio and Laredo. For more information, or to book a free informational seminar, please visit http://www.texasbariatricspecialists.com.