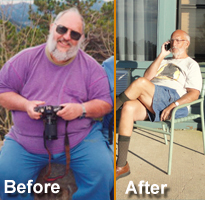 I used to eat too much, drink too much, & drive too fast; I never expected to live beyond 40 - said TBS patient Fred.
San Antonio, Texas (PRWEB) May 20, 2014
Dr. Nilesh A. Patel of Texas Bariatric Specialists (TBS) announced today that after years of abusing food and alcohol, bariatric surgery allows patient to gain control of health problems that were dangerously increasing as a result. Obstructive sleep apnea, high blood pressure, and rising blood sugar no longer threaten the future of an individual deserving of many years to come, as a result of the proactive decision.
Fred Jeffries grew up on a farm in West Virginia where his family raised their own livestock and harvested fresh vegetables. His mother was a decent cook and his family lived a fairly healthy lifestyle, free from obesity related problems. It wasn't until junior year of high school that Fred began to habitually overeat. His parents would work long hours so after attending school and getting out of his after-school job, Fred would go to a local pub to play pool and eat hot dogs all night. "I always had my own money at a young age," Fred said, "If I wanted a milkshake, I'd buy a milkshake. If I wanted a pastry, I'd buy a pastry."
Fred continued these habits through his first 2 years of college before he dropped out and started working at Goodyear. He no longer had as much time to overeat but he was far from healthy. He would work 14 hour workdays and eat nothing but snack food all day or canned soups. After a few years of doing that Fred finally started to level out his weight issues as a result of joining the military. Fred's activity levels increased and he began to lose weight. Unfortunately, the good news didn't last long.
After serving in the military, Fred had to undergo hip replacement surgery in one hip, limiting his physical activity for a full year; and just when things were starting to look up, he had to have his 2nd hip replaced and gradually started to gain all of his weight back. Fred used to play golf, tennis, go swimming, or sail out on Lake Eerie. After his hip surgeries, he had to take a cart around to play golf, when he used to walk, and he could no longer jump around during a game of tennis. He started drinking with his cousin a lot and eating TV dinners, consisting of meat & potatoes. "I was not a healthy food eater by any means," Frank stated, "My biggest problem was that I loved to bake. I baked a lot of cakes."
Eventually, due to unhealthy habits and lack of activity, Fred developed high blood pressure, became borderline diabetic, and was diagnosed with obstructive sleep apnea. Fred's sleep apnea symptoms became so bad that he started sleeping at his desk and setting a timer for 15 minutes. He couldn't even go on walks with his wife at the time or his dog. After only 15 feet, he was short of breath and felt miserable just getting himself up off of a chair or getting out of the car.
When Fred turned 40 he went into 2 years of depression, but he thought, "You know what? I'm still here, kicking, & making good money, so I can get through this." He decided to do something about his weight gain and all the health problems that had arose because of that, and started researching bariatric surgeons. He started his process up in Ohio through a Cleveland clinic; but after traveling down to Texas for a dog show, he fell in love with the state and started his process over again. He researched various places throughout Texas, but decided on Dr. Patel of Texas Bariatric Specialists as his first choice. "If I don't like someone, they won't be my doctor," Fred stated, "Dr. Patel seemed to be concerned about his patients. He asked all the right questions and gave all the right answers."
Dr. Patel recommended the gastric bypass procedure for Fred so that he would lose the weight necessary for his specific case. "I originally had my mind set on the lapband, but I figured if Dr. Patel recommends the bypass, then that's what we are going to do," said Fred, "I want a doctor that tells me what he thinks & feels, a doctor willing to say, 'Fred, you're wrong.' I respect that." From there, Fred completed his pre-requisite criteria required by his insurance provider, had his chosen procedure, & began the next chapter in his weight-loss journey.
Within 8 months of the procedure, Fred was already hitting 200 lbs. He no longer had a very big appetite, eating half a sandwich in one sitting instead of his usual two. "I ate because I knew I needed to eat," expressed Fred. He snacks a little here & there throughout the day and makes sure to include plenty of protein in his diet. He even has a favorite oatmeal cookie recipe made with Splenda and protein powder. In addition to his improved eating habits, Fred is also able to exercise again, incorporating long walks of up to 4 miles and riding his bike. When Fred attended his class reunion, no one could even recognize him! "When people ask me about the weight loss, I tell them," Fred professed, "Everyone has been supportive going in and supportive coming out."
Another benefit of Fred's weight loss, is that he is no longer pre-diabetic, his cholesterol disappeared, & he started weaning himself off of the bipap machine due to his lack of sleep apnea symptoms. Fred was taking a total of 13 medications before the surgery and post-surgery only has to take 3, one being for acid reflux to relieve some of his coffee-drinking habit. "I knew what I was up against from day one, "Fred affirmed, "I researched and the staff at Dr. Patel's office kept me well informed. Would I have surgery again? I'd do it tomorrow morning. I used to eat too much, drink too much, & drive too fast; I never expected to live beyond 40. This whole process has been life-changing."
About Texas Bariatric Specialists
Founded by Dr. Nilesh A. Patel, MD, a nationally recognized and fellowship-trained bariatric surgeon, Texas Bariatric Specialists (TBS) is a holistic weight loss practice focused on delivering long-term weight loss solutions for patients. Dr. Patel specializes in surgical weight loss procedures including Lap Band, Gastric Bypass, Gastric Sleeve, Gastric Band, and the revision of failed weight loss surgery, which have resulted in over 2,500 surgeries exceeding the national average of successful weight loss management. With a commitment to surgical expertise, compassionate care and exemplary preoperative and postsurgical consultative services, Dr. Patel and his staff at Texas Bariatric Specialists ensure successful weight loss management for their patients through long-term relationships to support good health. Offices are located across major cities throughout Texas including San Antonio, Austin, Corpus Christi, New Braunfels, Seguin, Boerne, Kileen, Temple, Del Rio and Laredo. For more information, or to book a free informational seminar, please visit http://www.texasbariatricspecialists.com.