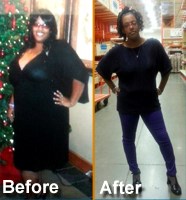 People at work can't even remember what I looked like before!
San Antonio, Texas (PRWEB) October 10, 2013
Dr. Nilesh A. Patel of Texas Bariatric Specialists (TBS) announced today that patient, Senetta Curtis, made an astonishing fitness accomplishment as a result of Bariatric surgery & giving up a toxic relationship with soda beverages. Friends and family are overjoyed as habits change and high blood pressure disappears.
Senetta grew up in a house full of people where she was the biggest one. Even though she participated in soccer and no one else was athletic, her constant emotional eating and soda drinking hindered any weight loss. As she got older, her sisters tried to get her to eat healthy and exercise but she still struggled to make any progress. Eventually, Senetta got tired of all the frustration and gave up. "It's hard growing up in a house where everyone is skinny," Senetta said, "People that haven't been in my shoes were always telling me it's easy to lose weight and to just push my plate away. That didn't do anything but make me want to eat more!"
The more she ate the less Senetta could tell that she was full. As a result, her weight increased, and as her weight increased so did her blood pressure and body aches. She couldn't even walk without aching and getting out of breath. She would spend 8 hours on her feet, get home, go straight to sleep, and wake up with her body still in pain; but regardless of her physical struggles, Senetta was very outgoing and always had a smile on her face. "I faked it till' I could make it," she said.
When the day came that Senetta decided she wanted to have children, she received horrible news. The weight wouldn't allow her to get pregnant! Doctors wanted to put her on more medications than she was already on from her high blood pressure and she didn't want that. The resulting emotional pain from this discovery caused Senetta to get online and research weight loss surgeons in the Killeen and Austin areas. She stumbled upon Texas Bariatric Specialists Austin location and immediately signed up for a weight loss seminar. As she continued to research further, Senetta discovered a bariatric surgeon closer to her home of Killeen and signed up for a weight loss seminar there too. Two days before her Austin appointment, she realized that she had made an appointment with the same doctor, just at two of his different locations! "Finding Dr. Patel was meant to be," Senetta exclaimed.
When she walked into her initial consultation with Dr. Patel's P.A. James Houston, Senetta felt immediately comfortable as they discussed whether the gastric sleeve or gastric bypass would be best for her specific case. "James was 100% honest with me on what would happen, what would work, and what wouldn't," Senetta said, "The entire TBS staff made me feel comfortable and that's how I knew I wanted Dr. Patel to do my surgery."
After Senetta's chosen procedure, the gastric sleeve, and post-operative diet phases were completed, her entire lifestyle changed. She dropped from a size 24 to a size 10 in less than year. It's the first summer since she was a child that she is able to wear dresses and you can't get her out of them. "I was jumping up and down when I dropped to a size 14, at size 12 I nearly passed out, and at size 10 I cried," Senetta announced as she goes on to talk about her current favorite song 'A Brand New Me' by Alicia Keys, "My family is overjoyed and people at work can't even remember what I looked like before!"
Senetta exercises more and all her body aches & high blood pressure disappeared. She is off all medications and even ran a mile for her first time as an adult! "The only kind of medications I take are my vitamins," Senetta said. She eats six small meals a day and makes sure to incorporate lots of protein into her diet. She has learned to keep herself hydrated with plenty of water and has been soda free for a year. "I am not ashamed to tell people about what I went through," Senetta proclaimed, "I will tell anybody that Dr. Patel and James are the best! If anyone fails after the surgery, then they didn't do what they were told to do. If I have a problem I can call the office and everyone is more than happy to help and answer my questions. You are more than a doctor's office; you all are family!"
About Texas Bariatric Specialists
Founded by Dr. Nilesh A. Patel, MD, a nationally recognized and fellowship-trained bariatric surgeon, Texas Bariatric Specialists (TBS) is a holistic weight loss practice focused on delivering long-term weight loss solutions for patients. Dr. Patel specializes in surgical weight loss procedures including Lap Band, Gastric Bypass, Gastric Sleeve, Gastric Band, and the revision of failed weight loss surgery, which have resulted in over 2,500 surgeries exceeding the national average of successful weight loss management. With a commitment to surgical expertise, compassionate care and exemplary preoperative and postsurgical consultative services, Dr. Patel and his staff at Texas Bariatric Specialists ensure successful weight loss management for their patients through long-term relationships to support good health. Offices are located across major cities throughout Texas including San Antonio, Austin, Corpus Christi, Alice, New Braunfels, Seguin, Killeen, Del Rio and Laredo. For more information, or to book a free informational seminar, please visit http://www.texasbariatricspecialists.com.