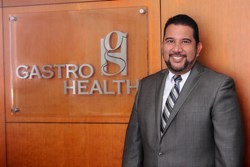 We are extremely proud of the hard work our staff puts on a daily basis and the excellent relationship we have with insurance payers to collect claims with an average days in accounts receivable of less than 29 days
Miami, FL (PRWEB) October 25, 2013
The MGMA Performance and Practices of Successful Medical Groups: 2013 Report Based on 2012 Data identified Gastro Health as a "better performer" because of superior operational performance compared with similar medical group practices nationwide.
Gastro Health is one of the fastest growing medical groups and corporation in the state of Florida for the past three years. Over 50 physician gastroenterologists, pediatric gastroenterologists and colorectal surgeons throughout south Florida provide outstanding medical care and an exceptional healthcare experience.
This is the first year that Gastro Health is chosen as a better performer by the Medical Group Management Association. Using the latest healthcare technologies Gastro Health has been able to achieve this exclusive status.
"We are extremely proud of the hard work our staff puts on a daily basis and the excellent relationship we have with insurance payers to collect claims with an average days in accounts receivable of less than 29 days," said Alejandro Fernandez, chief executive officer, Gastro Health.
The MGMA report, a benchmarking standard among medical groups for more than a decade, was produced using data from respondents to the MGMA Cost Survey: 2013 Report Based on 2012 Data as well as data from a questionnaire that assessed management behaviors, practices and procedures of better performers. The report profiles medical practices that have demonstrated success in one or more areas: profitability and cost management; productivity, capacity and staffing; accounts receivable and collections; and patient satisfaction.
###
About Gastro Health
Gastro Health is a multi-specialty group of over 50 providers that includes board certified physicians in Gastroenterology, Pediatric Gastroenterology, Colorectal Surgery, Pathology, Radiology and Anesthesia. The team also includes nurse practitioners, physician's assistants, nutritionists, infusion nurses, radiology technicians among others. We all strive to provide excellent medical care and an outstanding medical experience. We treat each and every patient as a valued member of our immediate family.
About MGMA
The Medical Group Management Association (MGMA) helps create successful medical practices that deliver the highest-quality patient care. As the leading association for medical practice administrators and executives since 1926, MGMA helps improve members' practices through exclusive member benefits, education, resources, news, information, advocacy, and networking opportunities, and produces some of the most credible and robust medical practice economic data and data solutions in the industry. Through its industry-leading ACMPE board certification and Fellowship programs, MGMA advances the profession of medical practice management.
Through its national membership and 50 state affiliates, MGMA represents more than 33,000 medical practice administrators and executives in practices of all sizes, types, structures and specialties. MGMA is headquartered in Englewood, Colo., with a Government Affairs office in Washington, D.C.