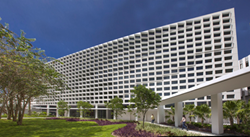 We are honored to have been a part of these projects that highlight the versatility of precast concrete systems. The projects' architects and engineers are to be commended for discovering innovative ways to use precast concrete. Dean Gwin, President/COO
Jacksonville, FL (PRWEB) October 14, 2014
The Precast/Prestressed Concrete Institute (PCI) recognized Gate Precast Company for its innovation and creative design techniques on a wide variety of projects in its 52nd Annual PCI Design Awards.
PCI Design Awards is a long-standing program that recognizes design excellence and construction quality using precast concrete. Sixteen building projects were selected as winners by seven independent judges of construction industry experts. The 2014 Celebration of Excellence Awards Ceremony was held Sept. 8 in Washington, DC.
Gate Precast earned awards for its work on the following projects:

Best Religious Structure - First Baptist Church, Dallas, TX: The church features an insulated custom-designed architectural precast concrete wall system. Architect: Beck Architecture LLC
Best Government & Public Building - U.S. Freedom Pavilion & Boeing Center, New Orleans, LA: The building's sloping facades feature irregular shaped precast concrete panels with an as-cast finish. Architect: Voorsanger Mathes LLC
Custom Solutions - G8WAY DC, Washington, DC: The pavilion roof features thin 1-3/4" lightweight Ductal© ultra-high performance precast concrete. Architect: Davis Brody Bond
Sustainable Design Award & Healthcare/Medical Award - UK Albert B. Chandler Hospital, Lexington, KY: The hospital features a high performance precast envelope system that includes continuous air and vapor barrier with continuous insulation. Architects: GBBN Architects and AECOM-Ellerbe Becket
Parking Structures Award - Lincoln East Parking Garage, Miami Beach, FL: The parking garage features precast concrete wall panels with art deco penetrations. Architect: Ten Arquitectos
Higher Education/Universities Award - FIU Science Classroom Complex, Miami, FL: The building features integral precast sunshades with glazing installed in window openings prior to shipping. Architect: Perkins + Will
"We are honored to be recognized by PCI and to have been a part of these projects that highlight the versatility of precast concrete systems. The projects' architects and engineers are to be commended for discovering innovative ways to use precast concrete to enhance overall building design," said Dean Gwin, President, COO of Gate Precast Company.
Gate Precast was also recognized in the 2014 Sidney Freedman Craftsmanship Award competition for its excellence in manufacturing and craftsmanship on The Church of Jesus Christ of Latter-day Saints Temple in Fort Lauderdale, FL. The project involved intricate mold work on the exterior precast panels which feature a creamy buff, simulated natural stone finish and a monolithic 41' precast concrete spire in the center of the structure. The Fort Lauderdale Temple was also named as the best Cultural/Worship project in 2014 by ENR Southeast Construction.
Visit Gate Precast's website for more information on each of the award-winning projects.
ABOUT GATE PRECAST
Gate Precast Company is a subsidiary of Gate Petroleum Company, a privately-held diversified corporation headquartered in Jacksonville, FL. Gate Precast has become one of the largest and most diversified precast concrete producers in the United States with eight manufacturing facilities and is known for its design-assist collaboration with design teams in the early stages of design. Annually, the company is recognized as a top subcontractor by Engineering News Record Magazine and wins Best-in-Class PCI Design Awards for a wide range of projects. For more information, please visit http://www.gateprecast.com.