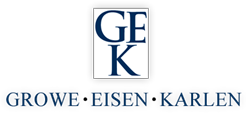 The group was founded in 1962 and currently has more than 1600 members in all 50 states.
St. Louis, MO (PRWEB) December 16, 2014
Michelle Spirin, partner at the law firm Growe Eisen Karlen in St. Louis, Missouri was admitted as a Fellow to the American Academy of Matrimonial Lawyers ("AAML") on November 18, 2014. The AAML is a national organization of the nation's top matrimonial attorneys who "provides leadership that promotes the highest degree of professionalism and excellence in the practice of family law."
The group was founded in 1962 and currently has more than 1600 members in all 50 states. Fellows across the country are recognized by judges and attorneys as the preeminent family law practitioners with the highest level of knowledge, skill and integrity and enjoy a reputation for professionalism and the utmost competence. Spirin has the distinct honor of being only 1 of 37 members in the State of Missouri.
The grueling process to be admitted to the AAML includes an exhaustive application detailing the applicant's extensive trial and appellate experience, recommendations from five judges and three attorneys who vouch for the applicants' trial skills and integrity, a personal interview and both a state and national exam.
Michelle Spirin has been a partner at Growe Eisen Karlen since 2012. She devotes 100% of her time to domestic and family law. She is also an adjunct professor at Washington University Law School and teaches Family Law Practice and Drafting. Earlier this year Michelle also has the distinction of being appointed as one of the Missouri Bar's Office of Disciplinary Committee's, Region X.
Senior partner Rick Eisen was quoted as saying, "Our firm is extremely proud of Michelle and her admission to the AAML. Michelle is an excellent attorney. Her admission to the Academy is the result of her hard and diligent work, as well as her skills as a Family Law practitioner. She will enhance the already strong reputation of the Academy."
About Growe Eisen Karlen:
The founding of Growe Eisen Karlen in 2009 brought together experienced trial lawyers, recognized for their passion and skill in representing clients in complex civil litigation. The firm features attorneys with a unique blend of abilities in all areas of civil litigation and trial work. The firm is widely respected for the depth of its family law practice, led by senior partners Richard Eisen and Chris Karlen, where eight lawyers devote full time to serving clients in this area. The firm is also involved with other areas of litigation, including personal injury and employment litigation.
For more information or to schedule a free case analysis please visit http://gatewaylawyers.com.