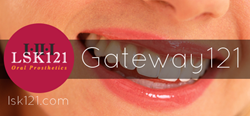 With photo sharing and newsfeeds, doctors are immediately made aware of any discrepancies or causes for concern with their cases.
Naperville, IL (PRWEB) October 24, 2013
LSK121 has reinvented its online presence to better serve the needs of its dental clientele. This re-launch will feature the new efforts of LSK121 to boost communication between itself, clients and those looking into restorative dental treatment. The efforts culminated in the creation of Gateway121. This tool is the newest communication implementation for clients to use in conjunction with each case they submit with LSK121.
Working in the dental restorative industry, a clear communication path between lab and doctor is key. LSK121 produces high precision restorative devices, and the denotation of patient needs must be on point. After researching cases that lead to a remake, a trend of communication ambiguity quickly emerged. LSK121 has revolutionized their communication standards to rectify these occurrences. The lab's answer to these situations is the first of it's kind, lab specific, "In-Lab Case Navigation." This tool, available through user profile Gateway121, provides consistent updates and case tracking through its involvement within LSK121. Once a first case is submitted, patrons will receives their "Boarding Pass" containing their specific login information to their pre-created account. After logging in, users are free to move about Gateway121. With photo sharing and case newsfeeds, doctors are immediately made aware of any discrepancies or causes for concern with their cases. These proactive case updates will prevent discrepancies that may have previously resulted in miscommunication and possible cause for alterations post case completion.
A major development and attraction in utilizing this new tool is the ease and accessibility for doctors to access their history of work with the lab. Case information is securely kept and archived for future reference at the user's leisure. It is now possible to independently access and share case information at the patron's immediate need without contacting LSK121. Patrons are given the ability to comment and remark on specific cases directly with the lab. This creates a documented exchange of words, and better communication for both the doctor and lab.
These implementations are formulated to provide clear, dependable exchange of information. This will result in faster case turn around and lower the amount of go between and alterations post case completion.