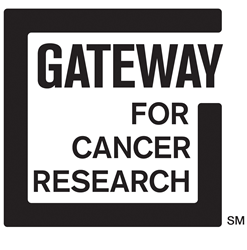 Be a Hero
SCHAUMBURG, IL. (PRWEB) November 11, 2014
The Associates Board of Gateway for Cancer ResearchSM will host the inaugural Be A Hero Cocktail Reception to fundraise for breakthrough cancer clinical trials that help people feel better, live longer, and conquer cancer today.
Chicago young professionals, influencers of industry, and anyone who supports people with cancer are invited to "be a hero" and support courageous patients battling today, as well as brave cancer researchers whose discoveries and treatments are saving lives today. Guests will suit up for a super night on Friday, November 14, at the Sheraton Hotel in downtown Chicago. The event will also honor compassionate caregivers and heroic donors whose contributions will fund cancer clinical trials for people of all ages, stages and types of cancers.
"Gateway for Cancer Research pursues treatment options for patients battling cancer by funding innovative clinical trials for all types of cancers," says Associate Board member Whitney Ahrens. "As an Associate Board member, I share in Gateway's vision of shaping a world in which a cancer diagnosis is no longer feared. And 99 cents of every dollar received funds clinical trials, so by joining us on November 14, guests can contribute directly to truly meaningful cancer research."
For just $85 per person, guests will enjoy an evening full of cocktails, food, dancing, silent auction, raffles, and more. Guests will also have the privilege of previewing and bidding on silent auction items for Gateway's Cures Gala taking place the following evening for nearly 1,000 guests. For more information about both exciting events, please visit http://www.curesgala.org.
The cost to fund one day of a Gateway cancer clinical trial is approximately $18.32. For the cost of two event tickets, donors will fund nearly ten days of treatments for patients battling cancer. In those ten days, patients and their loved ones can enjoy more cherished moments, more hugs, more hope, and more options.
Chicago Bears star linebacker Khaseem Greene will join Gateway at the Be A Hero Cocktail Reception. With major motion pictures filming in Chicago the same weekend, Gateway anticipates the possibility of other well-known heroes flying in and making a guest appearance.
"We can all be heroes if we unite around Gateway's important mission," says Karen Kay, Director of Development for Gateway. "Gateway is funding 34 cancer clinical trials worldwide with millions of dollars committed. With that said, our portfolio of clinical trials must grow so we can help more people."
Funding for the inaugural Be A Hero Cocktail Reception includes commitments from very generous sponsors such as the Stephenson Family Foundation, Our Health, Smith Printing, Norcon, Control Risks, Funkhouser Vegosen Liebman , Maxim Partners (Gregg Wilson and Dan Muhling), Simple Truth, Capricorn, Factor75, Flood Brothers Disposal and Recycling , Hallbart Consulting, LLC, TapCloud, Zebradog, Corrigan Insurance Services, Patti Gilford Find Arts, State Farm, and The Wrigley Building/Zeller Realty Group.
"Gateway has the opportunity to advance important clinical trials for patients everywhere," adds Rhonda Kokot, a member of Gateway's Board of Directors who also serves as liaison to the Associated Board. "My journey with cancer is proof that clinical trials save lives. It's a pleasure to help guide the Associates Board in their efforts to expand and to convey Gateway's mission and impact to a whole new generation."
Tickets are available now for the Be A Hero Cocktail Reception and donors can still contribute corporate sponsorships as well as individual donations through Friday, November 14th. Through generous underwriting of administrative and fundraising by Cancer Treatment Centers of America® (CTCA), 99 cents of every dollar donated to Gateway will directly fund patient-focused cancer clinical trials; presenting a powerful impact proposition for donors. All members of the general public are encouraged to visit the Be A Hero Cocktail Reception web site and upload a picture of their personal cancer hero, as well. Ticket sales, photo uploads, sponsorships and donations can be made online at http://www.curesgala.org.
About Gateway for Cancer Research
With a vision of shaping a world in which a cancer diagnosis is no longer feared, Gateway for Cancer Research is a 501(c)(3) nonprofit organization committed to funding innovative cancer clinical trials and bold new ideas for lifesaving treatments that can make a difference today. Gateway funds cancer clinical trials that focus on better options and greater quality of life. Gateway funds clinical trials for people of all ages and cancers of all types. Through charitable underwriting of administrative expenses by Cancer Treatment Centers of America® (CTCA), 99 cents of every dollar received funds clinical trials. This presents a very strong stewardship proposition for making the maximum impact with charitable gifts. Since its founding in 1991, Gateway has contributed millions of dollars to more than 120 cutting-edge cancer clinical trials. Please be a Gateway today by visiting GatewayCR.org, like us on Facebook at facebook.com/demandcures and join the conversation on Twitter @DemandCures.