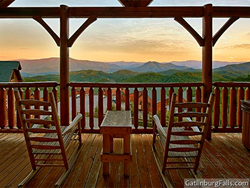 Gatlinburg, TN (PRWEB) March 16, 2015
Just in time for spring break, Venture Resorts, the largest cabin rental agency in the Smoky Mountains, has announced special weekend and weekday rates for the month of March. During the March 20-22 weekend, guests can save up to 30% when booking any cabin with 4 or more bedrooms. In addition, during the entire month of March the company is offering a "Buy 2 Get 2" weekday special. Guests booking two weekday nights for any size of cabin can get two additional weekday nights for free.
"Spring break is about families," says Billy Parris, general manager of Venture Resorts. "These discounts make it a little easier to take the kids to the Smokies."
Parris says that his company's cabins feature full kitchens, large living rooms and game rooms with features like pool tables, air hockey and arcade games. Some cabins feature home theaters with tiered seating and big screen TVs.
"Going out every night can get expensive for families," Parris says, "So having entertainment options in your cabin makes vacation a little more affordable."
Carrying that money-saving theme step farther, Venture Resorts offers guests an envelope filled with "Trip Cash" coupons for local attractions. The coupons include free tickets to attractions such as Ripley's Aquarium of the Smokies and The Tomb Egyptian Adventure.
Parris says the total value of his Trip Cash coupons is over $400. "We're the only cabin rental agency in town that offers this," he says.
Visitors can book their stay through the company's web sites at http://www.cabinsofthesmokymountains.com or http://www.cabinsofpigeonforge.com. Guests will see current rates for all cabins, with discounts applied at the time of booking. These promotions are valid on remaining nights only, and are not available for existing reservations.
About Venture Resorts
Venture Resorts is the largest luxury cabin rental agency in the Smoky Mountains, managing over 480 cabins within minutes of Great Smoky Mountain National Park and family-friendly attractions in Gatlinburg and Pigeon Forge, Tennessee.
For more information, call (866) 347-6659 or visit one of the company's web sites http://www.cabinsofthesmokymountains.com or http://www.cabinsofpigeonforge.com.