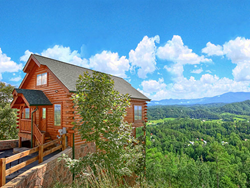 Gatlinburg, TN (PRWEB) May 03, 2015
Venture Resorts, Gatlinburg's largest cabin rental agency, today announced the re-launch of its flagship web site http://www.CabinsOfTheSmokyMountains.com. Vacationers can now choose from over 500 Smoky Mountain cabins, while getting over $400 in free tickets to area attractions when they book their stay.
"We're excited about the new web site," says Billy Parris, General Manager of Venture Resorts. "We've been running CabinsOfTheSmokyMountains.com for over 10 years now, and, frankly, it was time for a facelift."
The new web site is friendly to modern web browsers and mobile devices, and features an improved cabin search engine to help guests select their rental cabin.
The site also highlights the company's "Trip Cash," a package of free tickets and discounts given to guests when they check-in. Valued at over $400, Trip Cash includes free tickets to Ripley's Aquarium of the Smokies, The Tomb Egyptian Adventure and MagiQuest, plus tickets to shows including Country Tonite and America's Hit Parade. Also included are free tickets for whitewater rafting, horseback riding, ziplines and go-karts.
"We're the only company in the Smokies that offers all of these discounts," says Parris.
Guests can read about Trip Cash attractions and other local attractions in the web site's new "Things To Do in Gatlinburg" section. Parris says that one of the goals of the new site is to provide more information about local attractions.
"We want to be a resource for people coming to the Smokies," says Parris. "You can now plan your entire vacation from our site: where to stay, what to do, and where to eat."
Trip Cash tickets and discounts may change over time. Guests can contact Venture Resorts Customer Service at 866-37-SMOKY if they have questions about the package or about the company's cabins.
About Venture Resorts
Venture Resorts is the largest luxury cabin rental agency in the Smoky Mountains, managing over 500 cabins within minutes of Great Smoky Mountain National Park and family-friendly attractions in Gatlinburg and Pigeon Forge, Tennessee. The company started life as Gatlinburg Falls Resort, but now rents cabins throughout the area.
For more information, call (866) 347-6659 or visit one of the company's web sites http://www.cabinsofthesmokymountains.com or http://www.cabinsofpigeonforge.com.