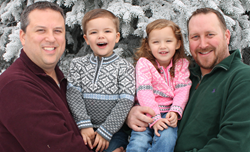 Now that marriage is legal in Illinois for all couples, many individuals are deciding to become parents and may be curious about surrogacy and other options for parenthood.
Chicago, IL (PRWEB) September 05, 2014
The international organization Men Having Babies is partnering with the Chicago based Center on Halsted and Howard Brown Health Center to bring the first comprehensive Midwestern seminar dedicated to biological parenting for gay men. The September 13 event is based on the successful format of programs Men Having Babies has already organized in NYC, LA, San Francisco, Barcelona and Tel Aviv.
The conference will open with an intensive "Surrogacy 101" workshop with advice and personal stories from experts, parents and former surrogate mothers. Following the workshop, current and future parents, allies, and professionals will be invited for a networking reception with lunch courtesy of the Chicago based aParent IVF.
The program will also include a Gay Parenting Expo with more than 15 clinics, agencies, lawyers and community organizations. While some of the exhibitors are local, most are coming to Chicago from around the USA, including Connecticut, NJ and Las Vegas, and one agency is arriving from Mexico. In the afternoon and evening these providers will also be available for private consultations with prospective parents that wish to explore the options they offer in more depth.
The event will take place on September 13, 2014, 10 a.m. – 7 p.m. at the Center on Halsted, 3656 North Halsted, Chicago. Go to menhavingbabies.org/Chicago for advance registration and additional information.
"Center on Halsted is partnering with Men Having Babies to present the first Midwestern surrogacy and gay parenting event because we realize that this is an issue that many gay men find important and often have difficulty finding information about," says Lynnea Karlic, Director of Community & Cultural Programs. "Now that marriage is legal in Illinois for all couples, many individuals are deciding to choose this path and may be curious about different options for parenthood. This program is just one example of programming Center on Halsted provides throughout the lifespan for LGBTQ individuals in an effort to give access to resources specific to the LGBTQ community."
Proceeds from the conference sponsorship will benefit the Gay Parenting Assistance Program (GPAP), a new service that will be featured at the conference. "GPAP was created to promote affordable surrogacy services for gay men, the first such program to do so," said Ron Poole-Dayan, the executive director of Men Having Babies. "Gay men who lack the financial resources can find assistance via financial grants, access to free or discounted services. This year prospective gay dads from across the USA already received over $500,000 in grants and pro bono surrogacy related services from about 30 participating providers."
Among the major supporters of the assistance program are some of the sponsors of the Chicago conference, including Worldwide Surrogacy, aParent IVF, Family Source Consultants, IVF NJ, RMA of CT, Fertility Center of Las Vegas, Simple Surrogacy and CT Fertility.
In addition to the three co-sponsoring organizations, additional community organizations from the region and beyond have joined to help promote the event and provide information about the resources they have for gay parents and parents-to-be. Among them are the national organization Family Equality Council and the Milwaukee LGBT Community Center, and the Windy City Media Group.
American sign language (ASL) will be offered courtesy of Alternative Reproductive Resources, and the seminar will be recorded on video courtesy of Worldwide Surrogacy Specialists.
Note: while the event is organized by a gay parenting organization, non-gay prospective parents are welcome and will no doubt highly benefit from it as well.
***
Press inquiries: Contact Ron Poole-Dayan, executive director of Men Having Babies ron(at)menhavingbabies(dot)org / 646-461-6112. Interviews with parents, prospective parents, surrogates and experts can be arranged by request.
***
About Center on Halsted
Center on Halsted is the Midwest's most comprehensive community center dedicated to advancing community and securing the health and well-being of the Lesbian, Gay, Bisexual, Transgender and Queer (LGBTQ) people of Chicagoland. More than 1,000 community members visit the Center every day, located in the heart of Chicago's Lakeview Neighborhood. The Center's vision includes a thriving lesbian, gay, bisexual, transgender and queer community, living powerfully in supportive inclusive environments.
More information: http://www.centeronhalsted.org
-------------
About Howard Brown Health Center
Howard Brown Health Center, founded in 1974, is one of the nation's largest lesbian, gay, bisexual, and transgender organizations. With an annual budget of over $30 million, the agency serves more than 16,000 adults and youth each year in its diverse health and social service delivery system focused around seven major programmatic divisions: primary medical care, behavioral health, research, HIV/STD prevention, youth services, elder services, and community initiatives. HBHC serves men and women, infants, youth, and children through a multi-site operation based in Chicago that includes a main health and research center in the Uptown neighborhood, Aris Health, the Broadway Youth Center, and three Brown Elephant resale shops located in Chicago and Oak Park.
More information: http://www.howardbrown.org
-------------
About Men Having Babies
With over 1500 couples and singles worldwide, Men Having Babies (MHB) is the only international nonprofit organization dedicated to providing current and future gay surrogacy parents with educational and financial support. It offers seminars, exhibits, and workshops in NY, and teams up with LGBT family associations throughout the world to develop similar programs. In 2014 the organization's Gay Parenting Assistance Program (GPAP) awarded 10 couples and singles over $600,000 in cash grants and free services, in addition to dozens who became eligible for generous discounts from over thirty service providers. MHB also offers extensive online resources, a directory with ratings and reviews of surrogacy agencies and IVF clinics, a speakers bureau, and a vibrant online community forum.
More information: http://www.menhavingbabies.org