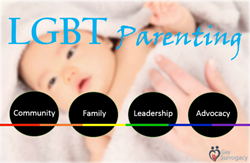 One of the central goals is assuring that family building options are affordable. This generous network understands how essential financial aspects of pursuing parenthood can be.
Chicago, IL (PRWEB) June 10, 2014
GaySurrogacy.com is the largest network of family building resources ever created by an organization with a specific mission to serve LGBT communities. The network, set to launch its new website, will offer the most affordable surrogacy options in the United States, insightful educational resources, media updates, success stories, and a range of initiatives designed to have a colossal impact on gay parenting.
Many individuals across the world simply do not understand the inequalities faced by lesbian, gay, bisexual and transgender communities and just how substantial those disparities affect their pursuit of livelihood, happiness and most discerningly — parenthood.
This move will position the company to make greater investments in LGBT communities while continuing to aggressively pursue affordable family building solutions.
"One of the central goals is assuring that family building options are affordable. This generous network understands how essential financial aspects of pursuing parenthood can be. Our vision allows us to go forward not only with inexpensive programs but also a network designed to encourage and support the LGBT communities specifically," stated Tolga Umar, GaySurrogacy CEO and Founder.
GaySurrogacy offers a distinct family building experience and a commitment to personalized, compassionate services at every stage of the intended parent — family building specialist relationship.
Mr. Umar further added, "Our team comprises of the most experienced colleagues who are extremely proud to support the LGBT communities. For the first time, we are inaugurating a network that symbolizes an imperative step towards equality. We are confident that we are creating a new benchmark to meet the rising demand for LGBT individuals to build a family on any budget."
Proud to Support LGBT Communities —
Surrogacy options for same-sex couples and singles can be a challenge due to a number of variables, from choosing the right surrogacy agency that supports gay family building options — to determining the specific laws and regulations for LGBT parenting within each state. GaySurrogacy offers a range of ingenuities designed to intensify one's passion and eliminate insecurities and fears from the journey.
Programs were created in direct response to unique challenges and barriers that the LGBT communities face when aspiring to create blissful, loving families. Providing a place to connect with compassionate —medical professionals, premier fertility clinics, reproductive lawyers, and journey coordinators — who can guide you and understand what you are experiencing is a tremendously influential tool.
Not only does GaySurrogacy.com provide a 'network that fits your life' — it encompasses a home to celebrate diverse unions, LGBT culture — and educates and empowers individuals and couples to achieve their fullest potential on their journey to parenthood. From surrogacy options for gay men, to lesbian women pursuing their dreams of motherhood, the inspiration is exemplified across all medical options, while guiding every individual through the legal and societal challenges that is faced along the way.
Redefining Real Identities —
The mission of GaySurrogacy.com helps LGBT individuals discover the unforeseen benefits behind parenting difficulties, legislative obstacles, and dishonorable limitations. How will this gay surrogacy network thoroughly help LGBT intended parents thrive and express their real identity?

Making solid connections to strengthen the foundation for family building options.
Connecting diverse LGBT communities to opportunities, resources and each other.
Envisioning a stronger and more equitable world for LGBT individuals — and achieving it.
Despite gains in marriage equality and workforce discrimination over the past few years, LGBT communities still face discrimination of all kinds. GaySurrogacy has established itself as a permanent home for the LGBT community with an impact that goes beyond its family building services. Building on the successes of the LGBT civil liberties movement, the approach of the team embraces four symbiotic areas of focus: Community, Family, Leadership and Advocacy.
"We believe the LGBT communities deserve an honest, affordable family building experience and we are delighted to make this possible. We are on the right track and we will continue to focus on delivering our brand promise — the most affordable LGBT family building options in the United States," stated Brandie Umar, Executive Director of GaySurrogacy.
GaySurrogacy is setting new standards in terms of affordability, exclusivity, proficiency and unmatched family building journeys. The company is pushing forward in 2014 — on pace to contribute to both LGBT equality progress and as a resource that will help every individual make even greater strides in life. The network provides a resource to connect and engage, find solidarity and support, and celebrate the vibrancy and growth of every LGBT community in the United States.
About GaySurrogacy.com
The GaySurrogacy platform is a place to be proud of your identity. It is platform to embrace one another, accept one another, and thrive together. The network has created a nurturing environment for members of the LGBT communities to use their voices, and support one another on their family building journey. The company comprises of an exclusive network focused on IVF, egg and sperm donation, gay surrogacy, news and more resources to keep LGBT individuals well-informed every step of their family building journey. No one should ever be convinced that pursuing a passion for parenthood is not practical.