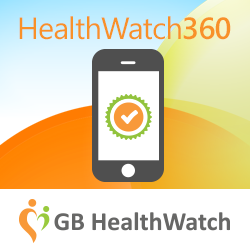 We carefully designed HealthWatch 360 based on sound nutritional science, and strived to make the app functionality simple and intuitive for everyone. We hope this app will help millions of people reach their optimal health.
San Diego, CA (PRWEB) May 20, 2014
GB HealthWatch, a pioneer company in gene-nutrition-health, is providing diet, lifestyle and health tracking tools for self-quantification. Obesity, type 2 diabetes, hypertension and cardiovascular diseases are common diet-induced health conditions. A mismatch between genes and the modern Western diet is the main cause of these problems. Fortunately, all can be prevented or minimized with healthy diet and lifestyle changes. HealthWatch 360 is the app created for just this purpose.
Beyond preventing serious health conditions, well-balanced nutrition can reduce stress, improve sleep quality and increase productivity, while also promoting a youthful appearance and boosting energy. Thus, meeting nutritional goals recommended by the Dietary Guidelines is important for everyone. Although many are already conscious about their diet, the majority of people are still not sure if they are eating in a nutritionally correct way. HealthWatch 360 is like a personal nutritionist; it helps people make the right food choices and identifies nutrient deficiency or excess in the diet, while at the same time providing personalized tips and actionable insights for improvement.
"We carefully designed HealthWatch 360 based on sound nutritional science, and strived to make the app functionality simple and intuitive for everyone. We hope this app will help millions of people reach their optimal health," said Dr. Shen, president of GB HealthWatch.
Unlike many weight loss apps, HealthWatch 360 goes beyond a simple calorie counter, tracking not only calories, but 30+ nutrients in the diet. "We have the most comprehensive food and nutrition database," said Christina Troutner, MS, RDN, a registered dietitian and nutritionist at the company. "In addition to the nutrients found on the food label, our database also includes important but overlooked nutrients such as omega-3, omega-6, potassium, magnesium, zinc, selenium, niacin, thiamin, riboflavin, lycopene and vitamins B6, B12, D, E, K and more. This way, it becomes easy to identify where true deficiencies lie, and fine-tune your nutrition balance. Nutrients from both foods and supplements are tracked, so reported nutrient intake is amazingly accurate."
The food database of over 400,000 items includes 1,300 brand name items, as well as foods from over 600 restaurants and all major grocery stores, such as Trader Joe's, Whole Foods and Chipotle. Users can easily log and track foods in several ways: by using search or integrated barcode scanner, by creating their own custom foods or recipes, or by picking from nutritionist-selected meal menus.
HealthWatch 360 takes a unique and holistic approach to nutrition. Nutrient intake from foods and supplements is totaled, then reported in the app's daily report. When a nutrient is lacking, the app provides top food recommendations to fulfill needs, and when a nutrient, such as sodium or cholesterol, is over-consumed, a warning is triggered and a graphic chart is displayed to help identify the problem. Users can also select from lists of foods rich in a specific nutrient for personal meal planning. A daily nutrition score, based on a proprietary algorithm, is also calculated as a measure of the user's diet quality, on a scale from 1-100. Regardless of whether someone is on the DASH diet, Mediterranean diet, or Paleo diet, the innovative nutrition score system motivates users to make better food choices, strive for more balanced nutrition and stay on target with their health goals.
HealthTracker is another unique feature of HealthWatch 360. People can track over 500 symptoms and health conditions in parallel with their nutritional intake and lifestyle. Body weight, blood pressure, blood glucose and allergies as well as mood, energy level, sleep quality, acne, canker sores, hair loss and dry skin are all preprogrammed choices and included in the app's extensive database. In addition, users can create custom trackers to suit their needs. With the power of this app, users can identify if reducing sodium in their diet truly reduces their blood pressure, if eliminating a food stops their allergy symptoms, or if taking a multivitamin increases their energy levels. Tracking symptoms together with nutrition and lifestyle can help people discover patterns and monitor trends and progress in their nutrition and health.
HealthWatch 360 is an app for better health, for everyone. It is now available in the App store, and it's free.
About GB HealthWatch
GB HealthWatch is a nutritional genomics company. We study gene-diet-health interactions. Our mission is to help prevent common chronic diseases through targeted, gene-based nutritional and dietary intervention. We aim to inform people about the scientific basis of chronic diseases, support them with nutrition management products and services and empower them to take control and live better lives.