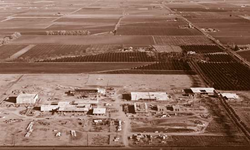 As I remember, my first semester cost me about $35 total for 12 credits. -- GCC Student Olivia Templeton
Glendale, AZ (PRWEB) September 12, 2014
With the start of the Fall semester, Glendale Community College kicks off its 50th Anniversary and a year-long celebration of the progress and growth the college has experienced in the last half-century.
The schedule of upcoming events include:
·"GCC's Got Talent" employee talent showcase, Sept. 25
·Special festivities at the GCC Homecoming football game, Oct. 11
·Golden Gala dinner (supporting scholarships for veterans), Renaissance Hotel, Nov. 1
·Classic Car Show at GCC, Feb. 28, 2015
The First Years
The first GCC students took classes in 1965 at extension campuses on Maryland Ave. and on Camelback Road in the former Jewish Community Center. The Camelback site earned the nickname "Read Mullen University," being next to the Mel Clayton Ford dealership, owned by Read Mullen.
When the new campus at the corner of 59th and Olive Avenues opened for classes in Fall 1966, 4,068 students were enrolled in what was then called "junior college." Student Olivia Templeton remembers how she registered for classes using physical card files.
"We would walk up to the table and get a card that was designated specifically for that class. Then we would take our stack of class cards to the cashier. The hardest part of registration was standing in the long line for the cashier. As I remember, my first semester cost me about $35 total for 12 credits." - Olivia Templeton
Founding mathematics faculty Ed Hoff remembers neighborhood peacocks that roamed the area and sometimes attacked the stray cats on campus.
See a complete list of GCC's 50th Anniversary events.
GCC Today
Enrollment at GCC has grown from 4,068 in 1965 to 19,000 students this Fall. Some will transfer their associate's degree coursework to a university.
Others are balancing parenting and full-time work schedules while they learn new job skills in biotechnology, CAD design, digital media arts, CISCO network engineering or other fields.
Day, evening and online classes help them realized their dreams of achieving a college education. See GCC Facts at a Glance for enrollment information.
As an education venue with 30,000 students each year, and an employer of more than 1,300 staff, GCC adds $230 million annually to the economic vitality of the west Valley.
# # #
About GCC
Glendale Community College offers innovative higher education curriculum in 100 associate degree, certificate and transfer programs, workforce development and career re-training courses. The college fosters academic and personal success, encourages critical thinking and global awareness. Glendale Community College is one of ten regionally accredited colleges in the Maricopa County Community College District.