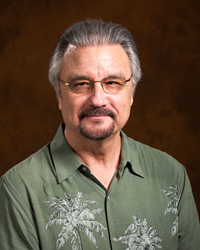 Glendale, AZ (PRWEB) December 07, 2014
Dr. René Díaz-Lefebvre, Glendale Community College psychology faculty, received the 2014 Distinguished Padrino Recognition for Outstanding Lifetime Achievement Award, at the 6th Biennial Conference of the National Latina/o Psychological Association (NLPA), October 23-25, 2014, at Albuquerque, New Mexico.
Four individuals were honored for the Padrino/Madrina recognition with Díaz being the first community college recipient. The award is conferred upon a psychologist in recognition of outstanding lifetime achievement congruent with NLPA's mission.
NLPA's mission is to advance psychological education and training, scientific practice and organizational change to enhance the overall well-being of Latina/o populations. NLPA is the professional home for Latina/o psychologists, graduate and undergraduate students and allies. Members include mental health professionals, researchers, and educators interested in matters concerning Latina/o psychology.
Known to his students as Dr. Díaz or Dr. "D," his career spans four decades at six community colleges in California and Arizona as he has been recognized for numerous national and international teaching excellence awards. Dr. Díaz was the first Latino selected as Arizona Professor of the Year, by the Council for the Advancement and Support of Education (CASE) and the Carnegie Foundation for the Advancement of Teaching.
He was awarded the Outstanding Latina/o Faculty Service/Teaching in Higher Education Award by the American Association of Hispanics in Higher Education (AAHHE) and was honored by the Arizona Association of Chicanos for Higher Education (AACHE) as Professor of the Year.
Dr. Díaz received a fellowship from the Maricopa Community College International Education Program to present his research and teach seminars on inteligencias multiples, at la Universidad Veracruzana, Xalapa, Veracruz, México. His book, Inteligencias Múltiples¡ Despierte el Potencial de Apredizaje! is utilized in México and Latin America.
As a founding and lifetime member of NLPA, Dr. Díaz has written articles, chapters and books in English and Spanish on topics pertinent to community college education
# # #
ABOUT GCC
Glendale Community College offers innovative higher education curriculum in 100 associate degree, certificate and transfer programs, workforce development and career re-training courses. Glendale Community College is one of the 10 regionally accredited colleges in the Maricopa County Community College District.