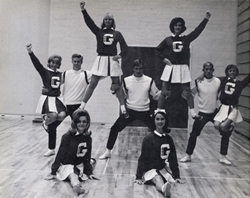 Glendale, AZ (PRWEB) October 27, 2014
Veteran students, founding faculty members and students from GCC's first year will be the honorees at the Glendale Community College 50th Anniversary Golden Gala dinner, Saturday, Nov. 1, 5:30-10 p.m. at the Glendale Renaissance Hotel in Glendale, AZ.
All proceeds from the event support Veteran Spirit of National Service Scholarship.
The evening will feature a tribute to the accomplishments of student veterans at GCC, several of whom will be in attendance.
More than a fundraiser, the 50th Anniversary Gala will showcase the student talent at GCC, beginning with silent auction and cocktail reception entertainment by the GCC Jazz Ensemble, directed by Mr. Dave Schmidt.
The agenda also includes:
· Masters of Ceremonies and nationally recognized Forensic students Daniel Patterson and David Turoin, under the direction of Mr. Loren Schwarzwalter;
· Posting of the colors by the Glendale Fire Department Pipe and Drum Corps.;
· National Anthem, performed by Ms. Angie Acuna, Director of Admissions and Records, Estrella Mountain Community College alumna; and
· Dinner entertainment provided by the GCC Guitar Ensemble under the direction of Mr. Chuck Hulihan, and the GCC Clarinet wind group, under the direction of Mr. Bill Humbert.
Special Guests
Mr. Terry Bloss attended GCC from 1964-66 and was the last Associated Student Government president at the Camelback Road campus. He is an Army veteran, an ordained minister and retired Fire Department Battalion Chief. Today he enjoys playing guitar and banjo, and spending time with his 23 grandchildren. Did not complete a degree, but enlisted in the Army and spent six years there, including a tour of duty in Vietnam. Primary profession was firefighter for the City of Carrollton, TX.
The Dana Family, including retired KPNX anchor Kent Dana, KPNX reporter Joe Dana, and GCC Communication faculty Michael Dana, are all GCC alumnus.
Founding Faculty members Phil Smelser, Philosophy; Merle Lange, Counseling; and Mark Montanus, Business will also attend.
Tickets are available online at $50 per person, or $500 per table of 10.
Glendale Community College is one of the 10 regionally accredited Maricopa Community Colleges.