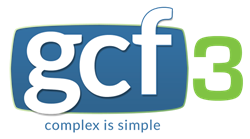 Not only did it help us to orchestrate the development of our product among internal teams, but it also helped us to effectively collaborate with external companies to build specialized extensions for our product
Bengaluru, India (PRWEB) November 02, 2013
GCF (Generic Component Framework) is a C++ library from VCreate Logic that empowers developers to architect their Qt applications on Windows, GNU/Linux and Mac OS as a collection of reusable components. By using the component model of GCF, Qt applications enjoy enhanced reusability, extensibility and maintainability. Since 2008, GCF has been used in a wide variety of verticals like Defence, Medical Visualisation, Geotechnical Data Visualisation and Electronic Design Automation to name a few.
A project manager [1], overseeing the development of critical defence applications at WESEE, says, "GCF's component model expanded the architectural flexibility of our product. Not only did it help us to orchestrate the development of our product among internal teams, but it also helped us to effectively collaborate with external companies to build specialised extensions for our product and dramatically simplified the integration process." WESEE is an R&D lab within the Ministry of Defence, India and a key customer of GCF. A recent survey [2] reported that "Defence and Aerospace" was second largest vertical where Qt was used as a primary framework for building desktop applications.
Today, VCreate Logic announces the release of Version 3 of GCF. This new release is a complete overhaul of GCF. It introduces a brand new component model for writing console, GUI and QML apps, support for Qt 4.8 and Qt 5, an improved IPC layer, support for access to Google Drive, an automated UI testing tool called Investigator and a brand new service-hosting platform called Fiber.
With GCF 3, developers can now use the inbuilt GDriveLite component and offer a "Load from Google Drive", "Save to Google Drive" and "Share with…" option in their desktop Qt applications. GCF's GDriveLite allows easy access to the content structure of a Google Drive account and the ability to directly upload, download and share files in it. With "Education and Academic Research" being the largest vertical market [3] targeted by Qt developers, GCF can now enable this group to offer seamless sharing workflows in their applications.
GCF's Fiber enables Qt developers to take their GCF components to the web. Developers can now host their GCF components on Fiber and access them as web-services from external applications using the widely accepted JSON packet format. With Fiber, people and organisations can now utilise their Qt skills for writing server-side logic as well!
GCF 3 is available under a dual licensing model from today, for use with Qt 4.8 and Qt 5 on Windows®, GNU/Linux and Mac OS®. Free-software developers can use GCF 3 under the GNU/GPL version 2 and 3 license.
For developing closed-source and proprietary software, commercial licenses of GCF 3 can be purchased for $1200 per developer. Startup discount and volume pricing is available on request.
About VCreate Logic: VCreate Logic (VCL) specialises in offering products and services to capitalise the power of Qt in web-services, cloud and real-time collaborative applications in addition to UI, desktop, mobile and cross-platform. VCL strives to empower software creators (people and organisations) to leverage the full power of Qt and GCF for dramatically expanding the business and technology possibilities of their products and services.
[1] Name has been hidden upon explicit request from WESEE for security reasons. Please write to us for referral contact.
[2], [3] Qt Insights Report 2013
VCreate Logic