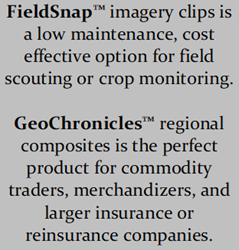 STATE COLLEGE, Pa. (PRWEB) January 06, 2019
GDA Corporation has released two new advanced satellite imagery products to help crop managers, insurers and commodity traders better monitor crops. FieldSnap™ for precision agriculture and GeoChronicles™ for regional/global analysis are based on GDA's years of experience with satellite imagery processing and analysis. They provide customers with cost effective ready-to-use solutions for high quality imagery—without the headache of self-processing or the price tag of private satellite imagery.
FieldSnap™ provides precision ag software and service providers with automated delivery of quality calibrated imagery for seamless incorporation into full crop management platforms. The system automatically collects, calibrates, screens for cloud cover, and delivers all available Sentinel2 / Landsat/ imagery for enrolled AOIs within hours of availability throughout the season. Sentinel2 and Landsat imagery down to 10 meters can be requested. This product provides a low maintenance, cost-effective option to build regular field level satellite imagery into broader precision ag software or crop monitoring solutions – such as field scouting support for ag retailers, or crop monitoring for insurance companies. Learn more at http://www.gdacorp.com/imagery-products.
GeoChronicles™ is an image composite product for regional analysis covering all major agricultural areas of the world—on a 10-meter pixel size, updated every 10 days. It provides a consistent, precisely calibrated, time-series suitable for regional scale and temporal analysis. GeoChronicles™ is designed to support land cover and crop type and condition monitoring, mapping and remapping efforts, change analysis, and acreage assessments. It is the perfect product for companies looking to do in-house analysis without the hassles of a "back-office" collection and management of suitable imagery—such as commodity traders, merchandisers, and larger insurance or reinsurance companies. Learn more at http://www.gdacorp.com/imagery-products.
"These products have been well received by our customers looking for alternatives to the cost of commercial satellite imagery, or the complexity of self-processing public imagery," says GDA President, Dr. Stephanie Hulina. "As a leader in science-based image processing and agricultural analysis, GDA is well positioned to fill this underserved market niche."
About GDA
GDA Corporation provides quality imagery products and sophisticated crop specific analyses on a global basis that are unparalleled in the industry. At its core, GDA is a satellite image analysis company. We don't make satellite data, but we do make satellite data work for our customers. Since 2002, our focus has been on operational, automated processing of massive amounts of satellite data, agile algorithm development, and applied agricultural analysis. Science-driven, real-world applicability.
Contact us to see how we can help with your imagery and applied agricultural analysis needs today. http://www.gdacorp.com