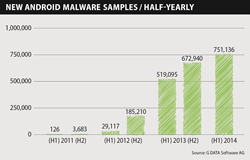 Malware that attacks both mobile devices and desktop PCs will become significantly more wide-spread.
Bochum, Germany (PRWEB) December 19, 2014
Dangerous computer malware such as Uroburos, spyware on Android smartphones and a constantly increasing number of malware instances involving attacks on mobile devices – 2014 was marked by cyber espionage, hacker attacks and eCrime campaigns. "Proven eCrime scams such as manipulated emails or the exploitation of vulnerabilities will continue to enjoy great popularity among cyber criminals in 2015. Banking Trojans reached an all-time high in 2014 and will continue to increase in the coming year," declares Ralf Benzmüller, head of G DATA SecurityLabs. "Malware that attacks both mobile devices and desktop PCs will become significantly more wide-spread."
Amount of Android malware increasing
Almost a billion Android smartphones were sold in 2014, according to a market survey by IDC. 84.7 percent of all smartphones sold worldwide were equipped with the Android operating system in the second quarter. Malware and spyware developers are aware of this too, and are continually working on new malware types for this sector. Security experts at G DATA counted 751,136 new Android malware strains in the first six months alone. And the analysts are expecting 1.2 million new malware samples for 2014 as a whole. The G DATA Mobile Malware Report for the first half of 2014 is available online at: http://www.gdata.de/rdk/dl-en-mmwr_2014_01
Six IT security predictions for 2015
Quantified Self data is inadequately protected
Personal data measurement, analysis and assessment are witnessing a constant rise. Insurance companies are interested in this trend as well, in order to be able to calculate insurance rates using health data. The concern is that data theft in this area will increase.
Multi-target malware: door-openers in company computers
In the coming year, so-called multi-target malware – malware that can be deployed on both PCs and on smartphones – will be used more frequently by cyber criminals as a gateway into company networks. Cross-platform infections between mobile devices and PCs will increase significantly in the coming year, in the opinion of G DATA.
More mobile devices with pre-installed spyware
G DATA analysed the Star N9500 this year, a smartphone that was equipped with spyware in the factory itself. In the view of G DATA experts, there will be more instances of this in the future. Even though the device does not cost much, users unwittingly pay with their personal data.
New record for banking Trojans
Banking Trojans are a very lucrative business for cyber criminals. Multiple-factor authentication and modern chip technologies are still a rarity among banks – making them an attractive target for attackers.
Adware still on the rise
High rewards for little effort: cyber criminals are doing business by displaying unsolicited adverts. This area has become established among attackers. For 2015, G DATA SecurityLabs is expecting a further increase in these imposed adverts.
Spyware on the increase
Regin, a new spyware attack, was recently discovered. Regin was being used for targeted attacks on high-potential networks such as national institutions or large enterprises. It can be expected that other highly complex spyware programs will be discovered in future.
About G DATA
IT security was invented in Germany: G DATA Software AG is the antivirus pioneer. It was more than 27 years ago that the company, founded in Bochum, in 1985, developed the first program to combat computer viruses. These days, G DATA is one of the world's leading providers of IT security solutions.
For more information about the company and G DATA security solutions, see http://www.gdatasoftware.com
For sales inquiries in North America please contact Contronex, Inc. (http://www.contronex.com)