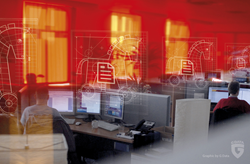 Regin is a complex and highly sophisticated spyware that enables attackers to gain full control and monitor everything in a network
Bochum, Germany (PRWEB) January 02, 2015
The security experts of German IT security provider G DATA immediately analysed the highly sophisticated Regin spyware, and found out that the highly complex spyware has been in active use since at least March 2009. Now, G DATA is the first IT security provider worldwide to make available a script that can identify files created by the malware, irrespective of the security solution used. According to the analysis team, Regin is just as dangerous as previously discovered spyware such as Uroburos, Stuxnet or Duqu. G DATA security solutions detect and block Regin.
"Regin is a complex and highly sophisticated spyware that enables attackers to gain full control and monitor everything in a network," explains Eddy Willems, G DATA Security Evangelist. "We think this malware was originally created by a secret service because implementing such malware requires immense amounts of time and money."
G DATA script detects the spyware
The G DATA SecurityLabs have responded immediately and developed a script that can be used independently of the security solutions used in order to identify files created and used by Regin on infected systems. The script detects virtual file systems created by Regin and raises the alarm. Version 2 of the Python program is required to execute the script. The script is designed specifically for IT managers and experts.
What is Regin?
Spyware Regin is designed to steal highly sensitive and secret information from high-potential networks such as state institutions, intelligence services or large companies and to monitor the attack targets. At present, we are aware of attacks on targets in 18 countries, including Germany, Russia, Syria and India.
For detailed information on Regin and the link to the script, see the
G DATA Security Blog
About G DATA
IT security was invented in Germany: G DATA Software AG is the antivirus pioneer. It was more than 27 years ago that the company, founded in Bochum, in 1985, developed the first program to combat computer viruses. These days, G DATA is one of the world's leading providers of IT security solutions.
For more information about the company and G DATA security solutions, see http://www.gdatasoftware.com
For sales inquiries in North America please contact Contronex, Inc.