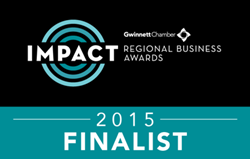 This award represents leadership in technology innovation, community stewardship and employee development.
Gwinnett County, GA (PRWEB) May 27, 2015
GDP Technologies has been recognized as a finalist in the IMPACT Regional Business Awards. Presented by BB&T and hosted by the Gwinnett Chamber the IMPACT Regional Business Awards honored and celebrated exemplary organizations from the community at a luncheon ceremony on Thursday, May 13 at the Gwinnett Center.
"GDP Technologies is honored to be chosen as a finalist among more than 500 nominees," John Schweizer, President/CEO, GDP technologies. "This award represents leadership in technology innovation, community stewardship and employee development. The ability to be recognized in these areas among Atlanta companies reinforces our commitment to excellence."
Designed to be reflective and unique to Gwinnett and across the metro Atlanta area, the IMPACT Regional Business Awards recognizes best-in-class organizations in the following areas:

Builder
Education
Entrepreneur (Established and Pre-Venture)
Healthcare
Hospitality
Information Technology
International
Nonprofit
Service industry
Small business
An overall Impact Regional Business Awards recipient will be selected from one of the above category winners.
"The IMPACT Regional Business Awards celebrate premier organizations in critical industries that are driving economic development and job creation, while enhancing our quality of life," said Dr. Dan Kaufman, President & CEO of the Gwinnett Chamber. "They represent the creativity, determination, and engagement of our business community and are examples of the enormous contributions of Gwinnett businesses and their employees."
Contact Gwinnett Chamber Programs & Events Manager Cally D'Angelo at 678.957.4958 or CDAngelo(at)GwinnettChamber(dot)org for partnership opportunities or with questions.
About GDP Technologies:
GDP Technologies has focused on improving the economic output of their clients since 1977. Georgia Duplicating Products rebranded itself in 2014 and renamed the company GDP Technologies. Same great Company, same awesome service, same great people- a new name to more closely reflect today's wide array of services. GDP Technologies is a Georgia corporation with offices in Metropolitan Atlanta and Macon. Global Imaging Systems purchased Georgia Duplicating Products in 2010, and GDP was recognized as a top performer in customer service, fiscal prudence, and employee retention by Global Imaging Systems in 2014. The Xerox Corporation owns both Global Imaging Systems and GDP Technologies.