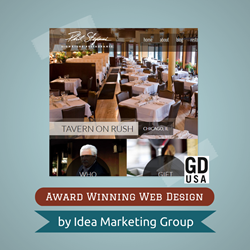 We're honored and thrilled to receive this award.
(PRWEB) May 31, 2014
Idea Marketing Group was honored with an award for outstanding website design by Graphic Design USA. The project was for the website design of the Chicago based restaurant group, Phil Stefani Signature Restaurants, which was redesigned earlier this year.
The American Web Design Awards is Graphic Design USA's annual showcase and highlights the power of design to enhance websites and online communications. Recognizing the explosive growth of this area, GDUSA saw record entries this year and the design for Stefani Restaurants website was recognized with an award placing it in the top 15% of all entrants.
"We're honored and thrilled to be receiving this exceptional award. The website we designed and developed for Stefani Restaurant Group was the product of a great collaboration and excellent design work," said Darren Fox, president of Idea. Idea and Stefani Restaurants have worked together on marketing projects for over five years. Both companies will be recognized in Graphic Design USA's Web Design Annual, a print, digital online and app publication.
Idea Marketing Group is a web design and marketing firm with offices in Chicago and Plainfield, IL. Since 2009, Idea strives to provide creative, unique and cutting-edge websites and individualized goal-driven marketing. Clients choose Idea Marketing for award winning web design and marketing services from an experienced and passionate web marketing team that helps grow businesses. To learn more, visit http://www.ideamktg.com or call 312.834.7001.