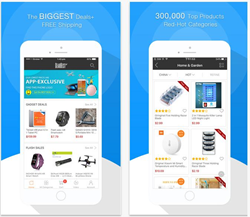 Gearbest Launches New iOS Fashion App
Shenzhen China (PRWEB) August 03, 2016
Gearbest is widely touted as the best affordable tech company in the world. The company has until recently been focused solely on computer based e-commerce, but today is proud to announce the launch of a new iOS application.
The new Gearbest iOS was created under the direction of parent company Globalegrow and is available in the App store of every region.
The Gearbest iOS app has the same functions as the full PC version. When customers log into the Gearbest app they will be greeted with the latest promotions and select hot products that are on sale. Digging deeper into the app customers will be able to find a gadget deal section. Each day a new gadget will be selected for the deal section, giving customers a reason to open the app every day! Customers who want to own the latest technology can check out the presale section, this will house all the upcoming products. Like the main site there are different categories to explore.
As an added incentive to using the Gearbest app the company is offering cheaper prices. The products sold are the same as the PC version of the website, but select products will be on discount exclusively to the mobile app. Another way to save is by using the app to upload review videos. The success of Gearbest is driven by happy users, by allowing videos other customers can get a taste of the products from unbias sources. Discount points will be awarded to people who upload approved videos.
Like the PC version, the mobile site accepts multiple forms of payment. These methods include PayPal and major credit cards (Visa, MasterCard, and Discover). The mobile app has the latest encryption and security technologies in place to prevent loss of data or fraud. Customers can be assured that using the mobile app is as safe, if not safer than the PC version.
To access the new Gearbeast app head over to the Apple Store or Playstore (for Android users) and search Gearbest. Alternatively, customers can get the app through the Gearbest website, head over to the website and click the "Save big on our app!" button to scan a QR code that will lead to the App Store. The "Save big on our app!" button is located on the main menu bar, above the search.
The mission statement at Gearbest is "Selling around the globe, benefits the whole world" and the company hopes that customers new and old give the new app a chance. The new iOS app along with the previous Android app are just a tip of the iceberg, Gearbest will continue to look for ways to improve the shopping experience.
Related links: http://www.gearbest.com
Email: support(at)gearbest(dot)com
https://itunes.apple.com/us/app/gearbest-shopping/id1131090631