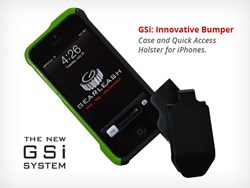 I created GearLeash so that our devices can be easily accessible while we move throughout our everyday lives.
Charlotte, NC (PRWEB) August 15, 2013
GearLeash is an all new protective bumper case and quick access holster for iPhones which is currently looking to crowdfund $12,500 in order to bring the product to market. GearLeash has hired Command Partners, Charlotte-based digital marketing agency, to carry out all pre-launch and Kickstarter marketing initiatives for the crowdfunding campaign on Kickstarter.
Currently, GearLeash is patent-pending, and supports the iPhone 4, 4S and 5, but will also support other smart devices in the near future. Users of GearLeash can clip their holster to a belt, pocket, purse strap or waistband. With just a twist of the wrist, the user's iPhone is removed from the holster and ready for use. How does GearLeash work? Its rare, earth neodymium magnets embedded into the holster snap the bumper case in place, and hold it securely.
GearLeash has performed extensive field testing to verify that the GSi will stay put even in the most extreme situations, yet remains quickly accessible when needed. The holster is very low profile, ergonomic and can clip onto a belt, pants, shorts, purse, backpack and more.
"Smart phones have become a huge part of our everyday lives and we use them for so many different tasks such as phone calls, text messages, emails, internet access, games, photographs and more," says Dave Garcia, Founder of GearLeash. "I created GearLeash so that our devices can be easily accessible while we move throughout our everyday lives."
Command Partners will use a comprehensive approach to carry out online marketing strategies of public relations, social media and strategic guidance to help maximize GearLeash's crowdfunding campaign. Given the agency's extensive crowdfunding experience, GearLeash is set up for a successful campaign.
"To the casual onlooker, GearLeash is just another bumper case in a sea of smartphone accessories," says Roy Morejon, Owner of Command Partners. "However, our team at Command Partners is excited to showcase what makes this product different, and carry out a successful Kickstarter campaign that Garcia can be proud of."
Today, GearLeash and Command Partners have officially launched their crowdfunding campaign for GearLeash on Kickstarter. To learn more about the device, or support the project today in exchange for the GearLeash device, visit http://bit.ly/GearLeashKS. Also, be sure to Like GearLeash on Facebook and Follow them on Twitter @GearLeash to stay up to date with the campaign and learn about any new and exciting rewards.
About GearLeash
GearLeash is a new startup located in Albuquerque, New Mexico. Because technology is evolving, and smartphones are becoming a part of our everyday lives, it only makes sense that smart devices should be easily accessible. GearLeash provides patented technology which offers an innovative system that is not only attractive while protecting your investment, but also allows for quick access. For more information on GearLeash, visit http://www.gearleash.com.
About Command Partners
Command Partners is a digital media agency that focuses on driving online visibility and lead generation including social media marketing, search engine optimization, public relations and strategic advisory services. Command Partners works with clients ranging from high-tech startups and e-commerce brands to Fortune 500 companies. The agency is located in Charlotte, North Carolina and works with clients around the globe.
For more information on Command Partners' services, visit http://www.commandpartners.com, Like them on Facebook and Follow them on Twitter @CommandPartners.