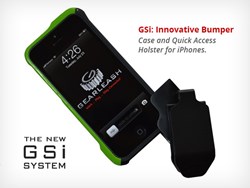 Which is why I decided to revamp the concept by redesigning the holster, and adding some new perks to the system
Albuquerque, NM (PRWEB) September 05, 2013
The idea of a phone holster usually has a negative stigma attached to it; believed to be bulky, unreliable and restricting, users often refuse to use holsters. However, the new GSi system from GearLeash contradicts the negative stereotypes by providing easy phone access in a modern and fashionable holster. Currently in the middle of its crowdfunding campaign on Kickstarter, the GSi bumper case and holster needs a push to reach its funding goal.
Holsters are pigeonholed as a rejected method of storing a mobile phone, and are associated with the words annoying, hefty, tacky and untrustworthy. Even though holsters do provide easy phone access, the positive benefits often don't outweigh the perceived negatives. Since the majority of holsters are bulky and cumbersome, owners feel awkward and uncomfortable when having to wear them. Also, most holsters do not provide enough security for the phone, making it an easy target for thieves. Not to mention, holsters are considered a fashion faux-pas because of the unstylish design. The combination of all these negative attributes of holsters makes the notion of easy access long forgotten, but GearLeash has created the GSi system to resurrect the concept of the phone holster and refresh its image.
The GSi has a practical and sleek design that makes phone access comfortable and convenient throughout the day, yet still provides protection from theft or damage. Think of it as a modern makeover to the old holsters of the past. Instead of a flimsy black leather pouch, the GSi has a metal bumper case and belt clip that lets the phone hang proudly from the owner's hip or bag. To replace the annoying snaps or velcro on traditional holsters, the GSi uses magnets strong enough to prevent theft or accidental dropping. By using innovation and sleek design, GearLeash has completely modernized the phone holster.
"Like everyone else, I needed to have my iPhone close to me throughout my busy day," says Dave Garcia, founder of GearLeash. "Which is why I decided to revamp the concept by redesigning the holster, and adding some new perks to the system."
The GSi system is made up of two parts. The first is a durable bumper case made from alloy steel and molded polymer that protects the phone from any damage or loss of signal. Secured by two stainless steel screws, the case fits snugly around the phone, providing a tough yet stylish layer that owners can rely on for phone protection. The second part of the GSi system is the belt clip. Unlike dated and tired holsters of the past, GearLeash's holster is made from a high performance plastic and has rare earth magnets embedded into the design. This design allows the bumper case to snap firmly into the holster for secure, yet easy, access. Owners simply have to attach the ergonomically designed clip to a belt, pocket or bag strap for convenient, out-of-the-way access to their phone.
In order to move forward with the GSi system, GearLeash has 13 days left to crowdfund the remaining $11,000 in funding on Kickstarter. This hybrid bumper case and holster defies negative images often associated with holsters, and offers iPhone 4, 4S and 5 owners the opportunity to have easy access with the assurance of phone safety in one sleek design. Head to GearLeash's Kickstarter page to learn more or back the GSi system today, and be sure to connect with GearLeash on Facebook and Twitter @GearLeash.
About GearLeash
GearLeash is a new startup located in Albuquerque, New Mexico. Because technology is evolving, and smartphones are becoming a part of our everyday lives, it only makes sense that smart devices should be easily accessible. GearLeash provides patented technology which offers an innovative system that is not only attractive while protecting your investment, but also allows for quick access. For more information on GearLeash, visit http://www.gearleash.com.