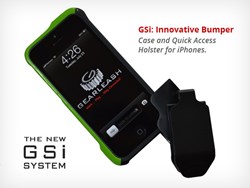 Between the magnets and clip, the GSi case is highly secure yet provides quick access to your phone. Making it the best option for anyone living active lifestyles.
Albuquerque, NM (PRWEB) August 23, 2013
Innovative technology startup, GearLeash, has recently launched a Kickstarter campaign for their GSi case. The GSi is a convenient, accessible and secure bumper case and holster for iPhone 4, 4S and 5 users. Perfect for those leading a busy lifestyle, users simply have to magnetically attach the bumper case to the holster to keep their iPhone by their side during any activity. In order to move forward with the GSi bumper case and holster, GearLeash hopes to crowdfund $12,500 to bring the device to market.
Equipped with both a durable bumper case and reliable holster, the GearLeash case allows secure and easy access for iPhones users. The GSi bumper case offers more than the average iPhone case. Made from alloy steel and molded polymer, the stylish case fits snugly around the iPhone and protects it from any damage. The polymer is designed to prevent any loss in signal from the metal case, allowing owners to use their iPhones without the worry of reception issues from the bumper case. This case then attaches to the uniquely designed holster, which ergonomically clips to the owners waistband or bag for easy access. The holster has rare earth coated magnets embedded into the design that allows the bumper case to magnetically snap to the holster for secure yet quick phone access. GearLeash uses these rare magnets because they do not affect smartphones, credit cards, magnetic I.D. cards, pacemakers or any other devices, making them ideal for for the GSi bumper case and holster.
The strong magnetic connection between the bumper case and holster makes GearLeash perfect for an active lifestyle. From runners to construction workers to busy moms, owners simply have to attach the holster to a waistband, belt or purse and they will have easy access to their phones. Whether they are jogging on the treadmill and need to change the song, lifting heavy materials when they receive an important call or trying to manage a bunch of messy kids plus keep their phone by their side, the GSi bumper case and holster allows owners to conveniently grab their phones no matter how hectic their lives may be.
"I created GearLeash for all those who need access to their phones at all times but can't because they lead extremely busy lifestyles," says GearLeash founder Dave Garcia. "Between the magnets and clip, the GSi case is highly secure yet provides quick access to your phone. Making it the best option for anyone living active lifestyles."
GearLeash is in the middle of its Kickstarter campaign to raise $12,500 to bring the GSi bumper case and holster to market. With rewards starting at $45 for the GSi-4 for iPhone 4 and 4s or $55 for the GSi-5 for iPhone 5, plus Kickstarter green reward options, there is something for every iPhone user. Head to http://bit.ly/GearLeashKS to back GearLeash on Kickstarter today. Also, connect on Facebook and Twitter @GearLeash.
About GearLeash
GearLeash is a new startup located in Albuquerque, New Mexico. Because technology is evolving, and smartphones are becoming a part of our everyday lives, it only makes sense that smart devices should be easily accessible. GearLeash provides patented technology which offers an innovative system that is not only attractive while protecting your investment, but also allows for quick access. For more information on GearLeash, visit http://www.gearleash.com.