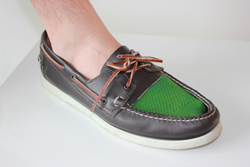 Our low cut liners still give you the style you want, but with the added bonus of odor-free comfort.
Chicago, IL (PRWEB) March 25, 2014
Less than two weeks after their Kickstarter campaign launched, Gekks low cut liners have hit over half their $75,000 funding goal. Six hundred backers have agreed that Gekks are the superior solution to going sockless this upcoming summer by supporting the project. Now, with 20 days left on Kickstarter, Gekks founders and brothers, Justin and Christian Arquilla, hope to go above and beyond their crowdfunding goal to manufacture their low cut liners.
While there are many alternatives for going sockless when wearing shoes, ranging from low cut socks to foot powders, Gekks provide the best possible solution. Specifically designed to fit inside a pair of boat shoes or loafers without showing, Gekks firmly adhere to the inside of the shoe for a comfortable, no-show liner. Unlike any other available products, Gekks are made of X-STATIC® yarn so they can be worn multiple times before needing to be thrown in the wash. Afterwards, owners simply need to place their Gekks back in their shoes for future use. Gekks liners provide the perfect combination of style, anti-odor protection and breathability to keep shoes fresh and smell-free for seasons to come.
"We love going sockless in our boat shoes and loafers, but hate the smelly, sweaty discomfort, so we fixed that with Gekks," says Gekks co-founder, Christian Arquilla. "Our low cut liners still give you the style you want, but with the added bonus of odor-free comfort. Since we designed Gekks to stay put inside your shoes, all you have to do is slip your feet in your favorite pair and you're good to go to work, class or out for some summer fun!"
With a successful Kickstarter campaign, Justin and Christian Arquilla hope to have Gekks in the shoes of everyone by Summer 2014. Offering reward levels from $30 for one pair to $48 through $115 for multi-packs, Gekks has a perfect reward for all shoe owners. Gekks are available in both female and male sizes as well as in a variety of colors, giving all backers the opportunity to achieve the sockless look they love.
To help Gekks reach their $75,000 Kickstarter goal, head to http://bit.ly/GekksKS and purchase a pair of low cut liners today. Also, be sure to connect with Gekks on Facebook and Twitter @GekkLiners.
ABOUT GEKKS
Created in 2013 by Justin and Christian Arquilla, Gekks are the ultimate shoe liners for those who like to go sockless with boat shoes and loafers. They attach to the insides of shoes to alleviate discomfort and stench caused by sweat with X-Static® anti-microbial and anti-odor protection technology. For more information about Gekks visit http://www.mygekks.com.