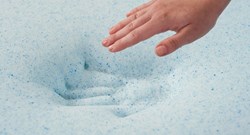 Denver, CO (PRWEB) August 28, 2013
Mattresses with gel have become the latest bedding trend, with manufacturers touting cooler sleep and improved comfort. Mattress blog BedEd.org seeks to ascertain whether or not gel is worth it in their latest article, titled "Do Gel Mattresses Live up to the Hype?" Bed Ed explains the common types of gel mattresses and then compares leading gel brands to traditional averages in an effort to identify how much difference the material makes to owner satisfaction.
Because gel mattresses are relatively new to the marketplace and many consumers are unfamiliar with this type of mattress, Bed Ed begins with the basics. The article explains that gel is usually incorporated into another mattress type such as memory foam or latex. A basic overview of common terminology, such as "gel beads," "gel-infused" and other terms, is provided to familiarize readers with the products available.
In delving into the comparison section, BedEd details the common claims made by gel mattress brands which include a cooling sensation, cooler sleep and improved comfort. The first comparison chart provides information on four leading gel mattress lines from leading national brands, Serta, Sealy, and Simmons. The product lines represent two gel memory foam and two gel spring/foam hybrid options. BedEd's comparison table looks at the type and location of the gel, and grades performance on heat, comfort, durability and satisfaction based on owner reviews.
This comparison is followed by a table with similar details for memory foam and innerspring mattresses in general to provide a comparative baseline. In the detailed explanation that follows, Bed Ed contrasts the gel brands with conventional statistics.
For memory foam, the article finds that iComfort did show fewer heat complaints and that both had better than average reviews, but that potential issues with durability may exist. However, Bed Ed also highlights their previous comparison of gel, plant-based, and traditional memory foams, in which Amerisleep's plant-based memory foam showed even better scores on heat, odor and cost. The two gel spring mattresses also showed slight improvement on coolness, but reports varied on the other factors, and overall ratings proved lower than their memory foam counterparts.
Concluding the discussion, Bed Ed highlights that gel mattresses do appear to offer some improvement in coolness. However, the newness of the technology raises concerns about long-term durability and the increased costs may not be worthwhile for all shoppers since alternative options can perform as well or better at more competitive price points.
BedEd.org is a mattress education blog dedicated to providing informational resources to shoppers. The blog features impartial assessments of mattress types, brands, and other sleep related products, developed via first party research, third party reviews, and expert research and opinion. In addition, readers receive useful sleep quality tips and news on the latest mattress developments.