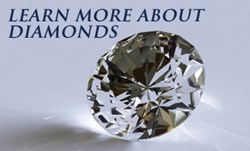 Los Angeles, CA (PRWEB) October 18, 2013
Gem Dynasty, a top provider of wholesale diamonds, loose diamonds and engagement rings Los Angeles, unveils top-notch advise on how one can choose diamonds simply by following the 4 Cs; cut, color, clarity and carat.
Although many things come into play when it comes to choosing a diamond, such as where the diamond is from, how it was sourced, what the buyer's budget is and so on, there is no denying that by carefully utilizing the 4 Cs of diamonds, one will be able to walk away with the best possible diamond to suit one's preferences.
1. Diamond Cuts
Many experts say that the diamond's cut is one of the most important Cs to pay attention to. As with many other things, because it is the most important, it is probably the most challenging to determine. Generally, the diamond's cut will affect the diamond's ability to reflect light, and hence, play a role in how brilliant the diamond looks. The diamond's cut has a lot to do with angles and its ability to reflect light and should not be confused with the diamond's shape. The diamond shape refers to the physical appearance of the diamond and phrases such as emerald cut, pear cut, princess cut, so on have to do with the diamond's shape and not its cut. When one speaks of a diamond's cut, key phrases to look out for are ideal cut, shallow cut and deep cut. When choosing a diamond, try to request for a diamond with an ideal cut as it is the finest cut and beautifully reflects light. Diamonds that boast an ideal cut are very well proportioned, thus enabling the diamond to reflect light, giving it a wonderful shine.
2. Diamond Clarity
Diamonds are formed through a natural process of carbon being exposed to great heat and pressure deep within the earth. This natural process causes imperfections within the diamond. These imperfections play a role in the diamond's clarity. Whether one is shopping for wholesale diamonds, loose diamonds or pre-set diamond engagement rings, the diamond's clarity should be heavily taken into consideration. A rating scale that ranges from Flawless (FL) to Included (I1, I2, and I3) is used and these ratings determine how much the diamond will end up costing. Ideally, diamonds with a Flawless rating are the cream of the crop and will tend to cost significantly more than their counterparts.
3. Color
Color means the presence of color in white diamonds. Whether one is looking for wholesale diamonds, loose diamonds or engagement rings, one should opt for a colorless diamond as it allows for plenty of light to pass through it, thus emitting more sparkle and brilliance. The more colorless a diamond, the more valuable it is. Similar to a diamond's clarity, there is also a scale to grade the diamond's color. The highest rating is D for colorless and the lowest rating is Z. Many diamonds toward the end of the scale have a faint yellowish color and this color impedes the diamond's ability to reflect lights, hence its brilliance and shine is significantly diminished.
4. Carat
The carat is the unit of measurement used to weigh diamonds. Although many people consider the carat to be the most important thing when shopping for loose diamonds, wholesale diamonds or engagement rings, this should not be the case. Although a diamond's carats are the only visible differences that can be noted by the naked eye when it comes to differentiating one diamond from the next, the other 3 Cs should also be factored in while diamond shopping.
For more information on Gem Dynasty's range of wholesale diamonds, loose diamonds, and engagement rings in Los Angeles, visit their website or contact one of their diamond experts at 1-877-623-9494.