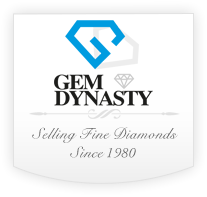 Los Angeles, California (PRWEB) October 22, 2013
Gem Dynasty, the select provider of wholesale diamonds, loose diamonds and engagement rings in Los Angeles, announces the top three ways shoppers can save money when they purchase their diamonds from them.
Ever since 1980, Gem Dynasty has been selling fine diamonds to the masses at incredibly competitive rates. Not only do they offer loose diamonds and wholesale diamonds, the company also offers beautifully set engagement rings, all at a song. Here are the top four reasons why buyers who are interested in saving money when buying diamonds should shop with Gem Dynasty and no other retailer.
1. Fair and Low Price on All Diamonds
Gem Dynasty is pleased to offer fair and low rates on all diamonds that they sell. The company plays host to a team of certified gemologists and experienced estate buyer of fine jewelry. This very same team will inspect the cut, color, clarity and carat of every diamond that passes through the company's doors. Based on extensive market rates and the high standards set by the Gemological Institute of America (GIA), Gem Dynasty's team of gemologists will appraise and set a fair value for the diamond. Even with all the high standards that the company sets for every diamond sold, they are willing and able to set a low price tag on the diamonds, ensuring that all their loose diamonds, wholesale diamonds and engagement rings are competitively and fairly priced.
As Gem Dynasty has a very strong online presence, the company only maintains a small store in Los Angeles. It is because of this that they have a very low overhead cost. Because of the savings that Gem Dynasty is able to accrue due to low overhead costs, they are able to pass on the extensive savings to their customers in the form a low price tags on all their inventory. From loose diamonds to wholesale diamonds to engagement rings, Gem Dynasty guarantees the lowest price on the market, enabling their buyers to save thousands of dollars when they buy diamonds with Gem Dynasty as opposed to when they shop with the company's competitors.
2. Tax Waiver
Because Gem Dynasty is located in California, the United States, clients have to pay a 8.25% sales tax for every item they purchase. However, out of state clients need not worry about this tax as it is waived for those who do not reside in California. Hence, this is a big motivator for buyers who reside outside of the state of California as they are able to save over 8% on thousands of dollars.
3. Complimentary Priority Shipping
Clients of Gem Dynasty will end up saving more than they expected should they choose to shop with the company. Unlike other diamond retailers who maintain an online presence, Gem Dynasty offers free priority shipping with UPS Priority Shipping. It does not matter what the client buys, be it several loose diamonds, wholesale diamonds or a brilliant engagement ring, Gem Dynasty will ship it for free. Whether the buyer is located in or out of the United States, buyers to worry about forking out more for shipping and insurance as Gem Dynasty will take care of it.
For more information on Gem Dynasty's range of loose diamonds, engagement rings wholesale diamonds and to learn about diamond clarity and diamond cuts, contact them at 1-877-623-9494 or check out their website.