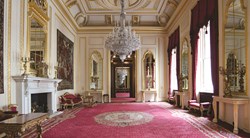 We have a truly diverse range of speakers and seminars this year which should provide something for everybody.
New York, NY (PRWEB) August 27, 2013
To celebrate the respective anniversaries of the world's first Gemology and Diamond Diplomas, the Gemmological Association of Great Britain (Gem-A) will hold a five-day celebration from November 1st through the 5th. As part of their annual two-day conference in the prestigious Goldsmiths' Hall, Gem-A will celebrate fifty years since the first Diamond diploma was awarded in 1963 and commemorate the awarding of the first ever Gemology Diploma to Samuel Barnett in 1908.
To pay homage to these distinguished milestones, the conference will kick off five days of gem-focussed networking and study with a preliminary day of workshops looking at pricing in the colored stone grading system; green grossularite garnet and zoisite from East Africa; and Clarity Enhancement in emeralds with speakers Richard Drucker, Craig Lynch, and Arthur Groom.
This day seminar will be followed by the annual two-day conference at the sumptuous Goldsmiths' Hall from the 2nd through the 3rd of November, where Gem-A will bring together a range of globally renowned speakers and international delegates to discuss a variety of important issues within the gem and jewelry trade. This year the conference will be looking at the challenges encountered in diamond grading systems, and the process and detection of synthetic diamonds while simultaneously inviting internationally renowned experts to discuss the colored gemstone market, from very rare gems to the clarity enhancement of some commercial materials.
These issues will be tackled by some of the industry's leading business owners and academics with talks from distinguished voices such as: John Bradshaw, David Callaghan, Dr John Emmett, Dr Emmanuel Fritsch, Arthur Groom, Brian Jackson, Dr Jack Ogden, Sonny Pope, Martin Rapaport, Gary Roskin, Chris Sellors, Shelly Sergent and Dr James Shigley.
Gem-A CEO, James Riley, discussed how this year's conference will "welcome as many members and friends of Gem-A, which I hope will be a truly memorable event. We have a truly diverse range of speakers and seminars this year which should provide something for everybody. In addition, the opportunity to dine at the Goldsmiths' Hall always makes for a special occasion."
Previous attendees, such as JTV's the late Jerry Sisk have branded the Gem-A conference as "something truly special that is not replicated anywhere else in the world" and "a definite must-see for anyone interested in gems and gemology."
The conference runs from November 1st – 5th, with the last two days fully dedicated to private viewings, including a visit to the Museum of London to see the amazing Cheapside Hoard and the very popular visit to the Crown Jewels at the Tower of London.
For more information on the Gem-A Conference, visit our website: http://www.gem-a.com/news--events/gem-a-conference-2013.aspx
About Us
The Gemmological Association of Great Britain, or Gem-A, is the world's longest established provider of gem education and a membership organization that forms an international community of gem professionals, enthusiasts, and graduates of our Diploma courses elected to Fellowship (FGA) or Diamond (DGA) membership status. As a UK registered charity, the Association seeks to serve the best interests of the gem and jewelry industries, support gemological research and is committed to high educational standards.