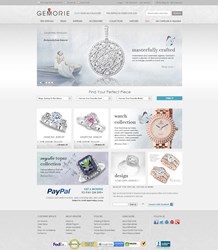 Gemorie would like to take this mishap as an opportunity and offer their valued customers the same discount plus a special complimentary gift with a purchase!
Los Angeles, California (PRWEB) November 22, 2013
Gemorie would like to express their sincere apologies for any inconvenience shoppers may have experienced over the weekend. At Gemorie, they take pride in ensuring 100% customer satisfaction and would like to make an effort to honor the referral program regardless of the misinterpretation. Due to their serious oversight, they are still going to honor the promotion with the conditions that the $25 discount is applied for every $100 spent on the website. Customers can use the $25 coupon with another combined discount and all credits will still be honored. For those coupons we are honoring from over the weekend, they will also be including a complimentary gift to show their heartfelt appreciation.
Over the weekend, Gemorie experienced larger than normal amounts of order volume. Seeing that more traffic and sales is always a good thing in any company's eyes, they were grateful for the added website traffic generated. However after order volume exceeded the website's processing capacity on late Saturday afternoon, the company began to look deeper into the source of these referrals.
It turned out that some influential bloggers blasted Gemorie's noteworthy promotion of "refer a friend and receive $25 off a purchase of $100 or more". What happened in this case is that the publisher loosely translated the promotion and failed to mention the minimum order value of $100. The article claimed "Find 10 friends who will sign up, earn $250 in credit and shipping will be will be free!" Free jewelry is always an enticing promotion and naturally this article spread like wildfire over social media and online deal forums this past weekend.
Gemorie realizes that their company is at fault for failing to specify the terms and conditions thoroughly prior to allowing consumers to check out on the website with this promotion. They would like to take the time to apologize to those who put in orders expecting to receive free jewelry. Furthermore, they would like to let all of their valued fans and customers know what they will still be honoring all friend referrals with the mentioned terms and conditions stating that the $25 off discount will be applied with any purchase for every $100 spent.
Gemorie deeply values the business and special relationship with each and everyone of their customers and are committed to providing the highest level of service. Their philosophy is simply; customers deserve nothing but the very best! Any discount not used will be retained for future orders so that no customer will lose any credit. For larger orders please contact Gemorie so they can discuss given discounts on an individual basis.
For more information, please visit: http://www.gemorie.com.