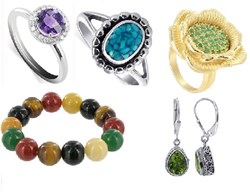 Gem Avenue.com believes ease in selecting that unique Gemstone Jewelry piece will translate to happy and repeat customers.
Charlotte, NC (PRWEB) February 18, 2014
Online Gemstone Jewelry retailer Gem Avenue today announced that they have unveiled their new Gemstone Jewelry category pages, which has simplified the process of selecting jewelry with the gemstone of their choice for their customers. GemAvenue.com is committed to providing their customers with the best possible user experience, ensuring that all of their customers can find the gemstones of their choice as easily a possible.
The new look has all of the semi-precious and precious gemstone swatches arranged in rows, making the customization page just a click away. This new arrangement of gemstones has added a lot of color to the gemstone category pages. Gem Avenue carries Gemstone Rings in sterling silver for men and women at very competitive prices. Thanks in part to the silver prices that seems to have stabilized at $20/oz., the prices of rings start as low as $7.99.
Turquoise gemstone rings are among the best-selling gemstone rings for men. The Gemstone Earrings for women page is adorned with 20 different stones to choose from. The extensive choices this category displays include blue lapis earrings, black onyx earrings, multi gemstone earrings and many more. Matching gemstone bracelets, gemstone pendants and gemstone necklaces has made gem avenue a regular place to Gemstone lovers to shop.
GemAvenue.com is a popular internet retailer of inexpensive gemstone jewelry and crystal Jewelry made with Swarovski elements. The company was established in 2002 and continues its path to excellence with customers returning to add their wardrobes with colorful and stylish Jewelry at reasonable prices. Their Gemstone Jewelry department is constantly working in sourcing unique Gemstone Jewelry at affordable price tags. For more information, please visit http://www.GemAvenue.com.