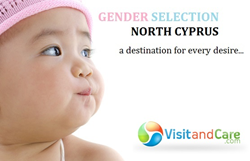 It is not only our intended parents who expect the highest standards in family building options – but also the infertility specialists.
Chicago, IL (PRWEB) June 04, 2014
According to VisitandCare.com, North Cyprus has been declared the top destination for gender selection in 2014. This accolade acknowledges the relaxed reproductive laws and exceptionally low-cost fertility programs driving in an increasing amount of intended parents to Cyprus.
North Cyprus is consistently setting the industry-wide benchmark in superior fertility care, medical safety, and advanced assisted reproductive technology. Fertility doctors have seen a significant rise in gender selection procedures, as an increasing amount of intended parents become familiarized to the options of choosing the gender of their baby.
While offering comprehensive fertility treatments, including affordable IUI, IVF, sperm donation, and high success rates in egg donation, the highpoint behind IVF clinics in North Cyprus is the all-embracing experience in gender selection since the first conception of preimplantation genetic diagnosis (PGD).
"It is not only our intended parents who expect the highest standards in family building options – but also the infertility specialists," states Tolga Umar, CEO and Founder of VisitandCare.com, responsible for making that invaluable connection. "The success of gender selection in North Cyprus makes us very proud, and demonstrates that we have met these expectations."
VisitandCare.com selects its exclusive medical partners on the basis of their expertise, credibility, location and influence on the medical tourism industry. This exclusivity resonates in the professionalism that each fertility clinic, specifically, provides.
World-Class Gender Selection Programs —
North Cyprus infertility clinics offer compassionate and innovative programs backed by diverse interdisciplinary teams that have expertise from the top educational programs in the world. The clinics have extensive experience, and comprise of advanced specialists in reproductive endocrinology and infertility.
"Our goal is to bring intended parents, irrespective of their cognitive thinking of gender selection — closer to the world of advanced reproductive technologies, its treatments and the compassionate teams who support gender selection, and to get to know their family goals and overall desires," stated Amy Saracoglu, International Patient Coordinator.
In Kyrenia and Nicosia, intended parents gain access to the most advanced IVF laboratories in world, innovative gender selection resources, such as MicroSort technology — all for an affordable cost. Not only do you receive a comprehensive treatment plan, but teams in North Cyprus manage every aspect of your gender selection treatment. The clinics give the gift of fertility, encompass relaxed fertility laws, an extensive range of accommodation options, the rewarding ability to have a baby — and the capability to select the gender.
Methods of Gender Selection in North Cyprus:

IVF with PGD for Gender Selection
MicroSort IUI for Gender Selection
MicroSort IVF for Gender Selection
MicroSort IVF with PGD for Gender Selection
Intended parents are stepping into an exceptionally visceral environment, seemingly encountered with the unique inter-disciplinary teams of physicians, embryologists, reproductive health specialists, genetic analysts, and specialized patient coordinators — critical components of any successful reproductive program.
The Affluence of Gender Selection in North Cyprus —
Gender selection has been banned in many European, Asian, and South American countries, as well as Canada. While it remains to be uncharted, couples are choosing PGD programs for a variety of reasons, including their cultural and circumstantial desires.
The United Kingdom permits the use of PGD for detecting gender abnormalities, but does not allow it for gender selection — which draws many UK patients to North Cyprus. In China and India, couples are increasingly looking to select the gender for cultural beliefs and social developments — including the drastic and demanding one-child policy. In the United States, couples are more so using it as a balancing tool to have the 'complete' family.
With the newest technology becoming an ethical dilemma, gender selection in North Cyprus remains a coherent component of reproductive rights, a no-tolerance policy for discrimination, particularly in countries or cultural communities where there is deep-rooted and biased laws against it, and is proving to become a modern reality of the fertility industry.
While this announcement was intended to complement, not compete, with prevailing fertility destinations that provide state-of-the-art gender selection programs, VisitandCare.com is reflecting on the reality of this miracle destination. Fertility treatments in North Cyprus are designed with one goal in mind —a genuine desire to help couples build the family have always desired.
About VisitandCare.com
VisitandCare.com was created to give individuals worldwide valued direction locating a doctor, obtain free medical treatment quotes, and uncover affordable medical treatments at destinations of their choice. Improving Patients Lives |The company provides access to exclusive doctors and hospitals who specialize in infertility, plastic surgery, cosmetic dentistry, laser eye surgery, orthopedic surgery, hair transplantation, weight loss surgery, heart surgery and cancer care. Patients are matched with devoted multilingual patient facilitators and provided tangible connections to doctors worldwide. Promoting Your Healthcare Brand | For the ultimate connection between the healthcare industry and patients worldwide, the company delivers an unrivaled commitment to create sustained value for medical partners. Contact VisitandCare.com to see if you are eligible to become a partner of the exclusive network.