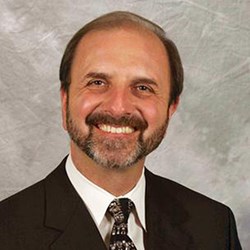 The Foundation believes the college is getting somebody who can make a difference for years to come.
Denver, CO (PRWEB) January 13, 2014
Gene Sobczak, former chief executive of the Colorado Symphony Association and Arvada Center for the Arts and Humanities, has been hired as the Community College of Aurora Foundation's new executive director, Foundation Board President Mike Quirk announced Monday. CCA is one of the Colorado community colleges.
Sobczak replaces Diana L. Whye, who stepped down from the position after nine years, effective Dec. 31, 2013.
Sobczak began his new duties Jan. 6. As executive director of The CCA Foundation, he will work in lockstep with a voluntary board of directors whose joint mission is providing financial support to the college and its students through effective fundraising, building public and business awareness of CCA, and publicizing the college's community benefits.
"The Foundation is tremendously excited about Gene's addition. His wealth of experience and contacts in Colorado are fairly unique. His impressive fundraising credentials working with various constituents are undeniable," Quirk said.
"The Foundation believes the college is getting somebody who can make a difference for years to come," Quirk added. "The recent hiring of Dr. Betsy Oudenhoven as full-time president, coupled with Gene's addition, has brought a palpable energy to the college that will produce tangible, exciting results moving forward."
Sobczak has held numerous leadership roles throughout a distinguished career in non-profit management that augments his well-established roots in the Colorado arts community.
As Executive Vice President of the Colorado Symphony in 2002-07, Sobczak was the orchestra's chief marketing and development officer, leading a 47% increase in ticket sales as well as the integration of the organization's fund-source and patron-service operations.
In 2007-12, Sobczak served as Executive Director of the $13 million Arvada Center, providing strategic leadership to its performing arts, visual arts, and education divisions. He also increased market recognition of the Center as a major regional institution through strategic alliances with local arts and cultural organizations and cross-sector partnerships, including the Consul General of Mexico in Denver and Asian Pacific Development Center in Aurora.
Sobczak returned to the Colorado Symphony in 2012 for a one-year appointment as President & CEO, and with the orchestra's board of trustees, administrative staff, and musicians, helped achieve a $1.2 million operational turnaround. Over $2 million in contributed revenue was raised from new, lapsed, and increased individual contributions. At the same time, the orchestra's geographic base of programming was expanded along the Front Range and in Colorado.
Sobczak in 2013 launched PROTEA: Technology, Education and the Arts, a consulting firm providing operational services, resources, and assessments for non-profit arts and cultural organizations in periods of development, growth, and transition. Additional PROTEA programs include DESC: Digital Education Services and Coursework, a statewide program to engage teachers in the transition from textbooks to tablets in Colorado elementary schools.
"The Community College of Aurora has been a tremendous resource in the personal and professional development of thousands of people each year," Sobczak said. "The cultural and socio-economic diversity of its student population beckons my own roots in New Jersey and reflects Aurora's rich mosaic of influence.
"Furthermore, the school's commercial and performing arts programs offer Coloradans tremendous opportunities for advancement in the state's creative industries. I am delighted and honored to join the CCA Foundation and Dr. Oudenhoven in the advancement of the college and its mission."
CCA's performing arts programs include dance, music, and acting classes in Denver and Aurora, Colorado.
In its role as a partner with the College since 1985, the CCA Foundation has helped individuals achieve their educational goals by providing more than $2 million in scholarship support. The Foundation also oversees: major gifts campaigns, educational grant initiatives, the college's alumni association, an annual scholarship recognition luncheon, and a Legacy Society recognizing supporters making estate plans to benefit the college and its students.
"We are very lucky to have someone with Gene Sobczak's knowledge and experience joining the CCA Foundation," Oudenhoven said. "He is both well-respected and well-connected in the community, and I am confident that he will be able to help us spread the good news about the work that we are doing at the college. I thoroughly enjoyed our conversation when he was a candidate for the position, and I am very excited about the opportunity to work together."
# # #
About CCA
Community College of Aurora has campuses at CentreTech and Lowry in the greater Denver area. Equipped with the latest technologies, CCA allows students to study new and traditional programs, while also offering Colorado online courses and degrees. CCA's service community spans 325,000 people in a 350-square-mile area and CCA's student population reflects that diversity. The college provides lifelong educational opportunities, prepares the current and future workforce, and promotes excellence in teaching, learning and service.