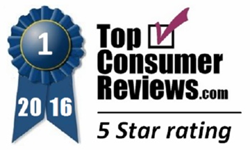 Ancestry is the most respected name in the world when it comes to Genealogy research... we give Ancestry our highest rating among Genealogy services in 2016.
Overland Park, KS (PRWEB) August 11, 2016
TopConsumerReviews.com recently gave their top rating to Ancestry, a market leader among Genealogy research services.
Understanding one's family tree, also known as the study of Genealogy, is second only to gardening when it comes to popular hobbies in America. From TV shows like "Finding Your Roots" and "Who Do You Think You Are?" to DNA tests that allow people to have scientific proof of their heritage, more people than ever are looking for answers about their ancestry. In the past, finding those answers involved lengthy, frustrating searches for vital documents such as birth certificates and marriage licenses, or even trying to read original documents in other languages. However, there are many services today that put those documents and other information in one's hands almost instantaneously, making the process of researching one's Genealogy more satisfying than ever before.
"Ancestry is the most respected name in the world when it comes to Genealogy research, with more than two million paying subscribers," explained Brian Dolezal, of TopConsumerReviews.com, LLC. "Their approach to family history research is threefold: historic records, such as the U.S. Federal Census and the Social Security Death Index; user-created family trees, that allow people to share their findings with one another; and DNA testing that lets individuals know more about their heritage at a cellular level. No other service currently available can compete with the billions of records accessible through Ancestry. Although Ancestry is not the cheapest Genealogy service on the market, the extraordinary amount of progress that users can make in researching their family history makes it well worth the subscription price. We give Ancestry our highest rating among Genealogy services in 2016."
To find out more about Ancestry and other sites for Genealogy research, including reviews and comparison rankings, please visit the Genealogy category of TopConsumerReviews.com at http://www.topconsumerreviews.com/genealogy/.
About Ancestry
Ancestry, the leader in family history and consumer genomics, harnesses the information found in family trees, historical records, and DNA to help people gain a new level of understanding about their lives. Ancestry has more than 2.3 million paying subscribers across its core Ancestry websites and over 2 million DNA samples in the AncestryDNA database. Since 1996, more than 17 billion records have been added, and users have created more than 80 million family trees on the Ancestry flagship site and its affiliated international websites.
About TopConsumerReviews.com
TopConsumerReviews.com, LLC is a leading provider of independent reviews and rankings of hundreds of consumer products and services. From Genealogy Services to DNA Testing and Medical Alert Systems, TopConsumerReviews.com delivers in-depth product evaluations in order to make purchasing decisions easier.