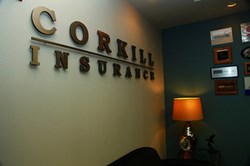 Elk Grove Village, IL (PRWEB) December 31, 2013
Elk Grove Village - Midland-Frantz Construction Group, Inc. is pleased to announce that the commercial construction and tenant improvement firm has completed a 8,500 square foot office build-out and expansion for Corkill Insurance at 25 Northwest Point Blvd in Elk Grove Village.
Founded in 1959, Corkill Insurance -- an accomplished independent insurance agency with a 55 year history of excellence -- selected Elk Grove Village local general contracting firm, Midland-Frantz to complete their 8,500 square foot interior office expansion project. Primarily focused on personal lines insurance, Corkill expanded into commercial, life and group benefits leading to increased growth and the need for more space.
The expansion project is almost doubling the space for the growing firm founded in 1959. The tenant improvement work included conference rooms, private offices and eating area. Construction also featured millwork, high-end door and glass finishes.
Peter Petropoulos was the project executive for Midland-Frantz Construction Group, Inc. Leasing and property management was coordinated by Joe Stevens with Transwestern, and Onyx Architects provided the architectural services.
About Midland-Frantz Construction Group, Inc.:
Midland-Frantz Construction Group, Inc. established in 1995 with offices in Elk Grove Village, Illinois, is one of the Chicago's most trusted and and successful interior general contractors. The firm's interior construction projects range from multi-million dollar contracts to building maintenance projects for building owners; developers; private and public corporations; property management firms; educational institutions; industrial and healthcare facilities. Midland-Frantz Construction Group, Inc. maintains a field team of union carpenters, tapers, laborers and superintendents including a professional staff of degreed construction specialists, architects and project managers.