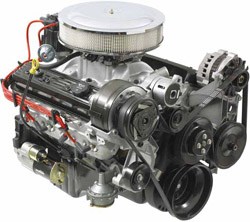 Brand new and refurbished crate motors are now on sale to make swaps and total replacements affordable.
State College, Pennsylvania (PRWEB) August 10, 2013
The General Motors company is known for its variety in engine families. Auto owners or mechanics who are currently searching for ways to replace motors in a cost effective manner could benefit from the General Motors crate engines sale that is now in effect at the http://www.crateenginesforsale.com company online.
"We're now building and selling nearly all GM editions of crate motors online," said a source for the Crate Engines for Sale Co.
These engines include the Vortec platform as well as Ecotec and others that are popular in the family of GM engines that have been produced since 1985.
Many of the classic builds that can be found inside project vehicles and restored automobiles use crate engines due to the lower replacement cost compared with new units.
"Brand new and refurbished crate motors are now on sale to make swaps and total replacements affordable," the source included.
The Vortec platform of engines created in the 1980s has been used primarily inside larger vehicles like trucks and SUVs. Because these units include multiple brands of GM vehicles, buyers searching for the correct engine code could struggle online when seeking a direct source to purchase.
One of the new updates that have been launched on the CrateEnginesforSale.com website is the elimination of part numbers for research. A programmed tool now supplies the information about each engine type instead of having to input part numbers to receive price quotes.
This intelligently programmed automotive engine quote system is a new feature that is well received on the company website. The installation of this tool has nearly eliminated the manual processing of engine price quotes as technology is speeding up the ways that consumers can compare crate engine pricing simpler online.
About CrateEnginesforSale.com
The CrateEnginesforSale.com company builds authentic motors that are used for GM, Ford, Dodge and other brands of vehicles in the United States and Canada. The company building processes include rebuilt crate engines as well as new units that are purchased as overstock and pullouts from brand new vehicles. The CrateEnginesforSale.com company distributes a three-year warranty policy for all engines that are sold to the public to extend terms of coverage past the standard engine time frame. Price generation is now produced through the company programmed quote system now offered online.