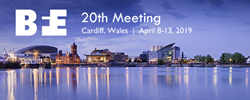 Bio and neurofeedback are evidence based techniques which have proved their value with podium results.
LONDON (PRWEB) March 21, 2019
"Some years ago, when I was still a serving military officer, I was made aware of the success biofeedback had in Canada in preparing our military athletes for the annual competitions of the International Confederation of Reserve Officers, a competition involving Reserve Force officers from thirty-four different nations. I know also that today biofeedback is used to help servicemen prepare for battle and to help wounded veterans in Canada and the United States overcome the effects of their injuries, as well as in the treatment of those with PTSD," recalled General DeChastelain in a recent letter to the BFE.
It may not result in the life or death of military performance, but athletes know the pressure of performance and the pressure is relentless. The Olympics come every four years, after performing thousands of phenomenal athletic feats, only this one counts. One hundred plus athletes, only three podium rewards. Professional athletes travel continuously, sleep and eat in foreign beds and dining rooms, and only one team can win. Bio and Neurofeedback are evidence based techniques which have proved their value with podium results.
Sport professionals are invited to learn more about these techniques in two upcoming workshops:
Self-Regulation Program for Peak Performance: Olympic, Military, & Elite Sport Applications
Dr. Pierre Beauchamp
Location: Cardiff, Wales
Date: April 9-10, 2019 - 9:00-17:30
Venue: Mercure Cardiff Holland House Hotel and Spa
Register: https://meeting.bfe.org/registration/
About Dr. Pierre Beauchamp
Pierre "Red" Beauchamp, Ph.D. (Sport Psychology, Un. of Montreal) with over thirty-five years of experience as an applied sport performance consultant with both the Canadian Olympic Association and International Olympic Committees competing in both the Winter and Summer Olympic Games.
Pierre is the President/Founder of Mindroom Peak Sport Performance – an innovative human performance consulting firm that has achieved worldwide recognition through the utilization of cutting-edge sport science technology, decision-training, psychophysiological self-regulation software, and integrated mental toughness training programs to enhance resilience and human performance under pressure. Pierre is also the CEO/Founder of Athlete Readiness Solutions, providing Athlete Readiness & Recovery software for Military, Olympic and Professional Teams.
Cognitive Resilience Strategies
Dr. Bruno Demichelis and Tim Harkness
Location: Cardiff, Wales
Date: April 12-13, 2019 - 9:00-17:30
Venue: Mercure Cardiff Holland House Hotel and Spa
Register: https://meeting.bfe.org/registration/
Dr. Bruno Demichelis and Tim Harkness draw from their years of experience at AC Milan and Chelsea FC. As a World Tai Kwan Do and Karate Champion himself, Dr. Demichelis has used a "Mind-Room" to help struggling superstars regain their form with biofeedback /neurofeedback and to train National and Champions League World Cup Winners.
About Dr. Bruno Demichelis and Tim Harkness
Dr. Demichelis has worked with some of the most successful athletes worldwide, he has coached players at soccer team Milan AC for almost 25 years, he has supported Chelsea FC to win the Double (winning the FA Cup and league title in the same season). He has mentored world leading golf players and cyclists. He briefly consulted players at Canucks hockey team.
Tim Harkness began working with biofeedback in 2007, in his private practice helping children learn to concentrate better, and in his sports practice helping athletes. One of his most high profile successes was helping Abhinav Bindra become India's first (and so far only) Olympic Gold medalist in 2008. Tim is currently Head of Sports Science and Psychology at Chelsea Football Club.
BFE 20th Meeting
The BFE meeting is an interdisciplinary biofeedback conference to nurture communication and education between specialists from different disciplines. The meeting offers a broad range of basic and applied psychophysiology and biofeedback workshops along with in-depth presentations (lectures, symposia, paper sessions, and posters) during the scientific program.
About the Biofeedback Federation of Europe
The Biofeedback Federation CIC is a community interest company based in the UK dedicated to increasing awareness about the benefits of biofeedback and providing education, training and certification to professionals. It is entirely supported by revenues generated in its online shop, through sponsorships and donations. For more information, visit the BFE Online Shop.