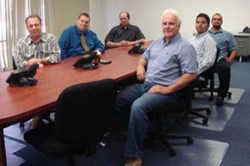 I have never seen a team of people work so hard in the bidding process.
Rancho Cucamonga, CA (PRWEB) September 30, 2013
Kana Pipeline's President and CEO, Daniel Locke, was pleased to announce the start of a new company he founded, Kana Engineering Group, Inc., (KEG). Word of this welcomed news came earlier this year when Locke held a special meeting to make the formal announcement. The KEG team is headed by its President, Albert Rau, who holds over 20 years of domestic and international experience. Kana Engineering Group's staff has over 100 years' experience company-wide.
The team's qualifications, credentials and their combined work history are impressive to say the least. The team prides itself in performing the best possible services with the highest level of safety, efficiency and professionalism. This is summarized by their slogans, "Your Partner in General Engineering Construction" and "Putting One's Safety Before Anything Else."
Kana Engineering Group was established to construct projects as a General Engineering Contractor specifically for water works and industrial projects. The Group works on a diverse range of construction services - both in the public and private arena, such as the installation of water treatment plants, pump stations and wastewater treatment plants - using the latest technologies. Kana Engineering's goal is to provide these professional civil engineering and construction services throughout Southern California.
"I have never seen a team of people work so hard in the bidding process," - added Locke. Locke, who has been in their office on "bid day," was impressed by their conference room layout which was well organized and sectioned off with pertinent bid documents spread throughout. The team aspires to get the best competitive pricing and is routinely involved in value engineering with venders to achieve a cost effective working product for the owner / agency. Acquisition of materials for their work stretches as far as the international domain when competing for the best pricing.
Rau admits that bidding competitively to be the lowest responsible qualified bidder is not an easy task. He and his staff work relentlessly on their proposals. Averaging 1-2 bids per week, the staff has been known to work nights and weekends to meet much needed demands that come with bidding large projects.
Recently, Locke announced that Kana Engineering Group's hard work paid off. They celebrated the award of an $8.1 million USD contract from the City of Barstow, CA.
Kana Engineering Group's office is located in Ranch Cucamonga, one of the Inland Empire's 10 largest cities. For additional information on the news that is subject of this release and to learn more, contact Kana Engineering Group at (909) 204-5970. Stay tuned for their new website coming soon.
About Kana Engineering Group:
Kana Engineering Group, Inc. was established by the longtime well-established pipeline contractor, Kana Pipeline, Inc. Kana Engineering Group's goal is to construct projects as a general engineering contractor for water works, wastewater treatment, solar, oil and gas, mining and various other industrial projects. Kana Engineering Group provides services to public and private agencies throughout Southern California. Kana Engineering's staff has a legacy of successfully delivering top-quality performance on schedule, within budget and tailored to the specific needs of the client. Kana Engineering's staff includes Professional Engineers, Construction Managers and Field Personnel with over 100 years of construction experience. Kana Engineering Group is headed by Mr. Albert Rau, President. The Founder of Kana Engineering Group is also the Founder, CEO and active President of Kana Pipeline, Mr. Daniel Locke.
About Kana Pipeline:
Kana Pipeline, established in 1984, is a leading underground wet utility pipeline construction company that specializes in the installation of water pipeline, sewer, fireline and storm drainage systems for public and private residential, commercial, industrial and institutional new developments throughout Southern California. Kana Pipeline also specializes in Subsurface Utility Engineering (SUE), specifically; vacuum utility potholing and private utility locating services.