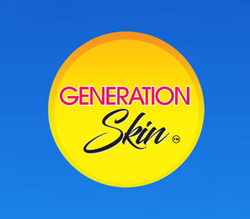 We wanted to offer women, and men of course, a solution to scarring that was not only efficient, but made them feel beautiful
LOS ANGELES (PRWEB) October 01, 2019
Generation Skin, a brand new wellness brand offering cutting edge solutions to scar treatment, is proud to announce the first of its lineup, Sunset Bloom, the first ever Universal Breast Scar Rejuvenation Patch.
Sunset Bloom patches are of medical grade silicone with no medicines. It's the only clinically proven way to treat old and new scars.
Sunset Bloom patches work to heal scars in as little as three weeks.
"We wanted to offer a solution to scarring that was not only efficient, but makes you feel beautiful," says Co-Founder and Chief Financial Officer of Generation Skin, MarCee Reimbold. "Our Sunset Bloom patches, which resemble a blossoming flower, are made from love and are meant to change the way you feel while you heal."
Contrary to other scar bandages currently available on the market, Sunset Bloom patches are water resistant and reusable.
"As well as being a beautiful scar treatment flower, they can also be used for coverage and support underneath t-shirts, dresses, or any outfit for that matter," says Co-Founder and Chief Executive Office of Generation Skin, Gina Franklin. "Their soft texture conforms to the body which allows for them to be easily hidden and offers added support to subtly lift the breast."
The Sunset Bloom rejuvenation patch is a non-toxic, safe and easy way to heal scars, normalizing collagen synthesis, while reducing irritation and redness. Sunset Bloom can be used universally for all types of surgical procedures that can lead to scarring, including mastectomies.
"In order to allow scars to properly heal, we had to make sure we were keeping skin hydrated and oxygenated. That's where the silicone comes in," says Franklin. "When the silicone allows for healthy and scarred tissue to blend, skin appears softer, flatter and more natural in color."
Sunset Bloom Universal Breast Scar patches are available at http://generation-skin.com/.
SUNSET BLOOM BACK STORY
After undergoing a breast lift/augmentation in 2005, Co-Founder, Gina Franklin experienced complications and was forced to have a second surgery. Unfortunately, the second surgery resulted in a recovery that took far longer than expected, as well as severe scarring on her breasts.
Although she did what she could to diminish the scars, nothing seemed to work. Her doctor recommended silicone bandages, but there was nothing on the market at the time for post surgical breast procedures. The only options were overpriced sheeting or tiny 1 inch bandages from the local drug store. Gina was forced to cut bandages and add parts in order to fit and cover her scars fully, which ended up wasting more product than she could actually use. Gina was pushed to the point of debating whether to continue scar treatment or to go without. Though, Gina was determined to find a happy medium.
Over a casual dinner in November 2016, Franklin explained her concept to Reimbold and told her about the new product that would help women with breast scars heal better, but shared that she lacked the funding to get the company off the ground. Fate would have it, MarCee was looking to invest in a new business that helps others, and with her resources, the journey began and Generation Skin was born.
The Generation Skin "Sunset Bloom" patches were beautifully designed to give healers an uplifting experience and to remind them of their beauty no matter their circumstance.
CO-FOUNDER AND CHIEF EXECUTIVE OFFICER OF GENERATION SKIN, GINA FRANKLIN
Gina Franklin is the Co-Founder and CEO of Generation Skin. Gina was born and raised in Southern California and studied arts and real estate. She had a successful career working in customer service, business development, and sales. She enjoys working and helping people while being a part of making a difference. Gina created the concept for Generation Skin's Universal Breast Patches after undergoing major surgery, leaving her breasts severely scarred. After trying every option on the market, she realized there was no product available that would support the breasts, treat scars fast, sufficiently cover scars of all sizes and origin, looked beautiful, and wouldn't cost the consumer an arm and a leg. So, she came up with the concept for the Generation Skin "Sunset Bloom" Universal Scar Patch.
CO-FOUNDER AND CHIEF FINANCIAL OFFICER OF GENERATION SKIN, MARCEE REIMBOLD
MarCee is a Southern California native who once co-owned a very successful sheet metal company in Orange County. Her mission is to help people on this planet. Investing in and developing a product in a wellness company to promote healing has been a personal endeavor for MarCee. When she was approached by Co-Creator, Gina Franklin, and was pitched the concept for a universal patch for scar healing, she decided to partner with Gina and took the steps to get Generation Skin up and running.
GENERATION SKIN
Generation Skin is a wellness company owned and created by Gina Franklin, CEO, and MarCee Reimbold, CFO. Generation Skin officially launched in 2018 and offers cutting edge solutions to scar treatment. Generation Skin products are not only meant to heal scars, but are designed to be seen and remind users of the beauty of healing. All products are made with love and care with you in mind to feel beautiful, while healing naturally and affordably. Remember, rejuvenation begins with Generation Skin.
Website: http://www.generation-skin.com/