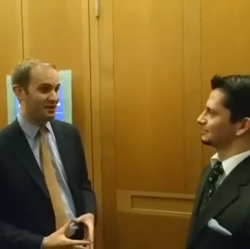 "If you know what your goals are and if you work really hard towards them, you can achieve anything." James Berry MP for Kingston and Surbiton
London, UK (PRWEB UK) 20 April 2016
On Tuesday 12th April 2016 Generation Success held a sold-out inspirational and networking event in the UK Parliament, in Portcullis House, focused on entering the legal profession. It presented a diverse panel of highly successful legal and political professionals who shared their tips and stories and networked with the audience throughout the evening. The panel included:

James Berry – Member of Parliament for Kingston and Surbiton
Daniel Winterfeldt - Head of International Capital Markets and Diversity & Inclusion Partner at CMS Cameron McKenna
Miranda Brawn - Barrister, Founder of the Miranda Brawn Diversity Leadership Foundation, and Vice-Chair of the Black Cultural Archives
Sheikh Bilal Khan – Co-Chairman and Partner at Dome Advisory, UK Trade & Investment Catalyst, Special Advisor to Chairman and CEO of the Middle East Association
The speakers took turns in sharing their own experiences of entering the legal profession and advancing in their successful careers. They also answered questions from the audience and networked with them for the remainder of the evening. The aim of the event was to empower aspiring lawyers to enter the legal profession and achieve their goals. The members of the panel, having overcome many difficulties themselves, showed the young audience how to succeed despite the growing number of hardships modern professionals face at entry level and beyond.
Around 200 students, professionals and entrepreneurs attended the talk. They were welcomed by the founder of Generation Success, James Adeleke. George Anev, the organisation's director of operations, managed the event and was responsible for running it. "I was really impressed with the huge number of people… You don't normally get this many people to an event in Parliament. I thought it was really well organised", said James Berry MP who sponsored the event, in an interview with George. Thanks to Generation Success' efforts and the motivating words of James Adeleke and the panel, the audience left feeling inspired and enabled to thrive in their careers. "I have been to plenty of events before but tonight's was beyond brilliant", said a member of the audience, "I am more pent up with determination than ever before."
"The ethos of Generation Success,' adds James Adeleke, 'is that the only limit to an individual's attainments should be personal ambition. We want to create a world where young people are given the means to be the very best that they can be."
Event details:
Generation Success Power Series: Climbing the Law Ladder
Address: Attlee Suite, Portcullis House, House of Commons, SW1A, London
Date & Time: Tuesday, 12 April 2016 from 18:00
Event page: https://www.eventbrite.co.uk/e/gs-power-series-law-career-stories-lessons-by-senior-legal-professionals-tickets-19784869076
About Generation Success:
James Adeleke:
LinkedIn https://uk.linkedin.com/in/jamesadeleke
Email: james(at)generation-success(dot)com
George Anev:
LinkedIn https://uk.linkedin.com/in/georgeanev
Email: georgi(at)generation-success(dot)com