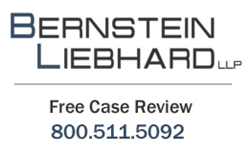 Because current FDA regulations do not give generic drug makers the power to update their product labels with new side effect information, certain types of legal claims based on a failure-to-warn theory of liability are pre-empted.
New York, New York (PRWEB) April 14, 2015
Bernstein Liebhard LLP, a nationwide law firm representing the victims of defective drugs and medical devices, supports efforts by the Take Justice Back Campaign to hold the pharmaceutical industry accountable for injuries caused by generic drugs. Recently, the Take Justice Back Campaign launched a new petition urging the U.S. Food & Drug Administration (FDA) to enact proposed regulations that would close a drug safety loophole that allows pharmaceutical companies to escape responsibility for updating generic drug labels to warn of new side-effects. The agency is only accepting comments on the proposed rule change until April 27th, so it is important that the public take action today to address this important public health issue. Bernstein Liebhard LLP joins with Take Justice Back in asking consumers to sign this petition, to ensure that generic drugs are safe and the industry is accountable.
"Because current FDA regulations do not give generic drug makers the power to update their product labels with new side effect information, certain types of legal claims based on a failure-to-warn theory of liability are pre-empted. Our Firm sees the impact of this current situation every day, as our legal staff is sometimes forced to turn away individuals who were allegedly harmed by generic versions of medications," says Sandy A. Liebhard, a partner at Bernstein Liebhard LLP.
The FDA and Generic Drugs
At the present time, generic medications are required to carry the same label warnings as their name-brand counterparts, and generic drug makers are barred from altering labels on their own. Even though generic drugs pose the same risks as their brand name counterparts, consumers have been barred from bringing state law failure to warn claims against generic drug manufacturers since 2011. That year, the U.S. Supreme Court determined that such lawsuits were barred because generic drug makers had no control over their products' labels. (Pliva v. Mensing, 131 S. Ct. 2567 (2011))*
In 2013, the FDA proposed new regulations that would allow generic manufacturers to make changes to their drugs' labels when they become aware of new information about potential risks associated with their products. However, the FDA is facing stiff resistance from the generic drug industry, which is waging an aggressive campaign to defeat the proposal. As a result of this industry pressure, the FDA reopened the period for public comment on its proposed rule until April 27th.*
"The ability to hold drug makers accountable in court is an important incentive to ensure pharmaceuticals companies monitor and adequately warn patients about safety risks. This petition provides the public with a means to counter the pressure being brought to bear on the FDA by the industry. We urge consumers to join with the Take Justice Back Campaign, and sign the petition before April 27th," said Sandy A. Liebhard.
Bernstein Liebhard LLP offers free legal consultations to individuals injured as a result of drug side effects allegedly related to Risperdal and other brand-name medications. To learn more, please visit Bernstein Liebhard LLP's website, or contact our Firm directly by calling 800-511-5092.
*nytimes.com/2015/03/28/science/makers-of-generic-drugs-challenge-fda-plan-for-updated-warnings.html, The New York Times, March 28, 2015
About Bernstein Liebhard LLP
Bernstein Liebhard LLP is a New York-based law firm exclusively representing injured persons in complex individual and class action lawsuits nationwide since 1993. As a national law firm, Bernstein Liebhard LLP possesses all of the legal and financial resources required to successfully challenge billion dollar pharmaceutical and medical device companies. As a result, our attorneys and legal staff have been able to recover more than $3 billion on behalf of our clients. The National Law Journal has recognized Bernstein Liebhard for twelve consecutive years as one of the top plaintiffs' firms in the country. Bernstein Liebhard LLP is the only firm in the country to be named to this prestigious list every year since it was first published in 2003.
Bernstein Liebhard LLP
10 East 40th Street
New York, New York 10016
800-511-5092
ATTORNEY ADVERTISING. © 2015 Bernstein Liebhard LLP. The law firm responsible for this advertisement is Bernstein Liebhard LLP, 10 East 40th Street, New York, New York 10016, 800-511-5092. Prior results do not guarantee or predict a similar outcome with respect to any future matter.
Contact Information:
Sandy A. Liebhard, Esq.
Bernstein Liebhard LLP
info(at)consumerinjurylawyers(dot)com
http://www.risperdallawsuit2014.com/
https://plus.google.com/115936073311125306742?rel=author