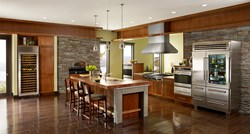 Our goal is to inspire people with what they can do in their homes.
Vernon, British Columbia (PRWEB) September 01, 2013
The new Genier's Appliances website is a lot like the Vernon appliances store: expansive, eye-catching, and easy to navigate.
"We really want to wow homeowners with the amount of options they have, whether they visit the store or the site," says Genier's owner Brad Kirkham. His family bought the home and kitchen appliances store in the mid-90s, long after Peter Genier opened Genier's TV Colour Sales Ltd. more than 50 years ago.
The Genier's logo and its renowned small-town service haven't changed since then, but the website was ready for a renovation. Geniers.com now better reflects the massive selection of stunning, innovative new appliances available in the store.
"Our goal is to inspire people with what they can do in their homes," says Kirkham. "We've got products they can't see anywhere else in the Okanagan, so the new site proves it's worth the drive from anywhere, especially the short drive from Kelowna or Kamloops."
Appliances for the entire home—including cooking, refrigeration, dishwashing, ventilation, laundry and grills—are displayed in vivid images in the Inspiration Gallery. To fulfill the store's mission of helping people find the perfect appliance, site visitors can now learn more about home and kitchen appliances on the Genier's Knowledge Centre blog.
Whether someone lives in Vernon, Kamloops, or Kelowna, appliances for the family's perfect kitchen can be found at Genier's, online or in store. While the website is a great place to start their search, Kirkham always recommends visiting the Vernon store.
"When it comes to appliances, there's a lot to learn," says Kirkham. "You need to see it, touch it, and feel it."
That's why one will find 15 live kitchens and expert, commission-free staff ready to answer any questions inside the Genier's showroom. With 58 brands of appliances from around the world, Genier's offers all the selection as well as the service you need.
When looking for kitchen appliances, Kelowna, Kamloops, and Vernon homeowners and builders get the best at Genier's.
For more information, please contact:
Brad Kirkham
Owner, Genier's Home Appliances
1-250-545-0664
brad(at)geniers(dot)com
http://www.geniers.com