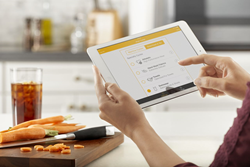 Genier's is proud to announce that by fall 2017, they will carry smart appliances that feature voice commands.
Vernon, British Columbia (PRWEB) July 11, 2017
In just a matter of months, a Vernon appliances store will be displaying the kinds of kitchen appliances once restricted to futuristic TV shows like The Jetsons. Soon, homeowners will be able to talk to their refrigerators and ovens, and they will listen.
Michael Bowman, sales consultant at Genier's Appliances in Vernon, BC, says the "smartest" appliances yet, the kind George and Jane Jetson would have used, are on the not too distant horizon.
Whirlpool is about to release a line of smart appliances that will feature voice commands, so homeowners can actually tell their fridge to decrease or bump up the temperature, or get their oven to preheat before they arrive home from the office.
Genier's carries Whirlpool and its affiliate brands such as KitchenAid, Maytag, Jenn-Air and Amana, which will offer this smart technology and finally deliver the kinds of appliances Vernon homeowners have been dreaming about.
"Whirlpool is releasing this line in the fall or early next year that will be fully autonomous. You will be able to run appliances from your smart phone, and they will also be able to understand certain voice commands," said Bowman, adding,
"Dacor also has a line of ranges and ovens, which we carry, where you can turn on the oven via your smartphone before you arrive home.
"It will blow people's minds with what these appliances will be able do."
Whirlpool has already been showcasing a line of new refrigerators, washers and dryers, and ovens that have the ability to be controlled by Amazon's Alexa, a type of artificial intelligence program that has the ability to understand and process simple voice commands.
The company also recently announced that it has also received support from Google to operate its appliances under Google Assistant. According to Google, this new AI will be able to understand "appropriate, contextually aware smart suggestions for quick replies." 
An article from CNET explains the Whirlpool appliance would require a $130 plug-in speaker, and the Google Home would be able to "respond to questions and commands over Wi-Fi with the simple wake phrases, 'OK, Google' or 'Hey, Google.'"
"Its voice control smarts come from the Google Assistant, the same recognition software that lives inside Android phones and watches (and soon TVs, too)," reads the article.
Until the day a fridge talks back, Genier's Appliances' Vernon store, which also services and delivers to communities throughout the Okanagan-Shuswap regions of BC, will continue to carry its line of mid-range and top-of-line products, including its most popular brands such as Whirlpool and KitchenAid.
"People still want a good fridge that's going to work," said Bowman. "They are also looking for cooking products that have low simmer and other options that make cooking easier."
About Genier's Appliances
Genier's has been helping Okanagan homeowners take care of their families with the finest home and kitchen appliances for more than 50 years. Genier's Appliances Vernon showroom houses close to 60 of the world's best brands and more selection than any other store in the Interior, including Kamloops and Kelowna appliances stores.
For more information, please contact:
Michael Bowman
Sales Consultant
Genier's Home Appliances
1-250-545-0664
michael[at]geniers[dot]com
http://www.geniers.com