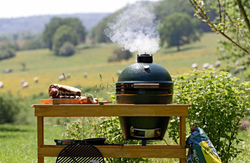 Charcoal, black stainless steel, and smart technology are emerging as popular trends in home appliances this season.
Vernon, British Columbia (PRWEB) September 26, 2017
Who would have thought that the oldest way of cooking would flare up again in the 21st Century, but that is what a Vernon appliances store is seeing along with other new trends in home appliances, which are flying off the shelves and floor this season.
A charcoal outdoor cooker, black stainless steel, and the new generation of smart appliances are in demand this season at Genier's Appliances in Vernon, BC.
Especially hot is the Big Green Egg barbecue system. The egg can be used all year round, regardless of weather conditions, due to its ceramic interior and charcoal heating system, which retains heat much better than aluminum, says Michael Bowman, sales consultant with Genier's.
"Once you have cooked with real charcoal, you will never go back to gas again," said Bowman. "There is a misconception that cooking with gas is faster than cooking with charcoal. The charcoal in the egg can heat up to a maximum 2,400 degrees Fahrenheit, as the eggs are fire kilned at 2,500 degrees. In 15 minutes, you can reach up to 1,500 degrees and the gauge is so accurate that when you lower the temperature, it drops immediately."
With six different sizes to choose from, the Big Green Egg can be used to not only grill meat and vegetables, but it can also be used as a smoker by adding wood smoking chips to the charcoal to impart flavours such as cherry, apple, pecan, hickory and even Jack Daniels.
"Cooking with charcoal impacts the flavour of the meat," said Bowman, adding the eggs can even be used as an oven to bake bread, casseroles and pizzas.
"Even if your egg cracks, it will be replaced free of charge. They have a lifetime warranty."
Black stainless steel appliances including kitchen appliances such as refrigerators, gas ranges, ovens, hoods and dishwashers continue to be a popular sell at Genier's.
Whirlpool, which is one of the brands Genier's carries, just released a new line of black stainless steel appliances, while KitchenAid released a line out a few years ago, says Bowman.
"In my opinion, I think people started to tire of stainless steel as it's hard to clean and has an industrial look. However, we now have fingerprint resistant stainless steel, where all you need to clean it is a damp cloth. The fingerprint resistant comes with the black stainless steel as well as the brushed stainless steel," said Bowman, adding that he's also noticing a comeback for white appliances.
"We are selling more white and black appliances as I believe those are the colours that are popular in kitchens today."
Soon to be arriving at Genier's is the next generation of home and kitchen appliances that use smart technology such as voice command.
"We are expecting these appliances to arrive within the next two months or so," said Bowman. "These appliances will have Wi-Fi connectivity so you will be able to program your oven away from home or have voice command for the cooling system in your fridge."
About Genier's Appliances, Vernon:
Genier's has been helping Okanagan homeowners take care of their families with the finest kitchen and home appliances for more than 50 years. Genier's Appliances' showroom houses close to 60 of the world's best brands and more selection than any other store in the BC Interior, including Kamloops and Kelowna appliances stores.
For more information, please contact:
Michael Bowman
Sales Consultant
Genier's Home Appliances
1-250-545-0664
info[at]geniers[dot]com
http://www.geniers.com